Nigeria Immigration Service (NIS) Recruitment Portal 2023 (www.niscareer.org.ng) – The Nigeria Immigration Service (NIS) is the government agency that has been charged with the responsibility of migration management in Nigeria.
Over the years, the Nigeria Immigration Service (NIS) has witnessed series of changes since it was extracted from the Nigeria Police Force (NPF) in 1958. The Immigration Department, as it was known then, was entrusted with the core immigration duties under the headship of the Chief Federal Immigration Officer (CFIO) and the first to sit on that chair was in the person of Mr. EH Harrison.
The department in its emergent stages inherited the Immigration Ordinance of 1958 for its operation. At inception, the department had a narrow operational scope and maintained a low profile and simple approach in attaining the desired goals and objectives of government. During this period, only the Visa and Business Sections were set up.
However, on August 1st, 1963, Immigration Department came of age when it was formally established by an Act of Parliament, Cap I71, Laws of the Federation Nigeria. The head of the department became known as the Director of Immigration. Thus, the first set of Immigration officers were former NPF Officers.
It became a department under the control and supervision of the Federal Ministry of Internal Affairs (FMIA) as a Civil Service outfit.
Nigeria Immigration Service (NIS) Recruitment Portal 2023 – www.niscareer.org.ng
Applications are hereby invited from suitably qualified persons for full-time recruitment and appointment at the Nigeria Immigration Service (NIS) 2023:
Check out >> Nigerian Navy Recruitment Form UPDATE!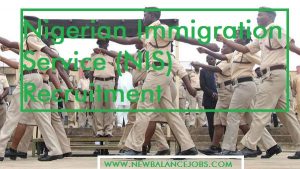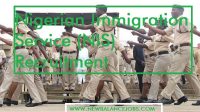 Key Requirements for Nigeria Immigration Recruitment:
Applicants must:
Be Nigerian by With.
Have National Identity Number
Be medically fit
Present certificate of medical fitness from a government hospital
Be required to pass a drug test
Be of good character and must not have been convicted of a criminal offense and must not be a member of a secret society/cult
Be free from financial embarrassment
Be between the ages of 18-30 years with exception of Doctors and Pharmacists who must not be more than 35 years
Have height not less than 1.65m for males and 1.60m for females
Have a chest measurement of not less than 0.87m for men.
Be computer literate and
Any certificate or qualification not declared and accepted at the recruitment centre shall not be accepted after the recruitment.
Applicants with any of the following physical challenge need not apply for the ongoing Nigerian immigration service recruitment:
Impediment in speech (stammer/dumb
Gross malformation of teeth
Knocked knees
Bent knees
Bowlegs
K-legs
Flat Foot
Limb legs
Bent arms/deformed hands/fracture
Defective eyesight(squint-eyed, crossed eye. one-eyed and total blindness)
Amputation of any part of physical body
Hearing-impaired (deaf) m. Hunched back n. Obesity o. Medical challenges
Any physical deformity not mentioned, and
Note that due to the rigor of the physical exercise In the recruitment process, women with pregnancy need not apply
SUBMISSION OF APPLICATIONS
Applications should be submitted online within four (4) weeks of this publication through NIS portal: www.immigrationrecruitment.org.ng
Computer Based Test (CBT)
There shall be a computer-based tests for shortlisted candidates. Appropriate time and date shall be communicated to such persons.
Method of Applying for Nigerian immigration service recruitment
These are the steps in applying for the Nigeria Immigration Service (NIS) Recruitment in 2023.
Visit NIS Recruitment Portal (www.niscareer.org.ng)
Click the Registration Button at the top right hand.
You'll be required to enter a valid email address and phone
Enter the position who wish to apply for as indicated.
Ensure you fill in your details accurately (eg Name. Marital Status. Degree. Religion, etc)
Make sure you activate your account by clicking the verification email sent to you.
Done! Any developments in respect to your application would be communicated to you.
Note: All applications must be submitted on or before the deadline.
You may also like to apply for;
Please Note
This application process is ABSOLUTELY FREE. NIGERIA IMMIGRATION SERVICE will NEVER request any form of payment from applicants. All applicants will undergo a fair recruitment process.
Closing Date for the NIS recruitment
According to PRO, "The recruitment is going to be on for four weeks from the date of publication. Members of the public are advised to make use of the opportunity and apply," he said.
PLEASE NOTE:
The job might not be available anymore when you visit the APPLY NOW page but we promise to always give you the latest update on this offer.
The jobs above are subject to change.
You have to visit regularly for the latest update.
Disclaimer: NewBalancejobs.com Does not have any influence on the recruitment process. We assist you with every piece of information you need in regards to the application process.
Feel free to ask your question in the comment box below;