This is to bring to the notice of the general public that the NLNG SIWES/internship 2021/2023 application is ongoing.
The requirement for NLNG SIWES/Internship Application
These are some of the requirements you need to have scanned before applying for the NLNG SIWES/Internship placement;
SIWES Letter from your school
Passport photograph
School fees receipt
School ID card etc.
Please note that you need to provide the title of the document, select the attachment type e.g. Passport photo. Select language as English and click on browse to search for where you stored the document and then click on Transfer to attach
2021 NLNG SIWES/Internship Application Guide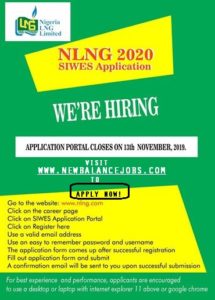 All applicants are expected to read through the NLNG internship 2020 application guide below before applying for this offer.
Eligibility:
The application is fully open to all undergraduates seeking to undergo 6 months or 1 year Industrial Training from any field related to Oil and Gas.
You can Also Apply for;
METHOD OF APPLICATION
The SIWES application portal is now open and interested candidates can apply for placement.
Please note that the portal will be open from 30th October to 13th November 2019. Below is a guideline on how to submit the application.
For best experience and performance, applicants are encouraged to use a desktop or laptop with internet explorer 11 and above or google chrome
Click on Guidelines to read on how to register and apply.
Click on Register Here to register your new account on the portal.
Use a valid email address
Use an easy-to-remember USERNAME and Password
The application form comes up after successful registration
Fill out the application form and submit
A confirmation email will be sent to you upon successful submission.
The NLNG SIWES application portal is now live/open and interested candidates can apply for 2019 NLNG Internship/SIWES placement by Clicking here
Application Closes 13th of November 2019
Enter your email to get the latest on NLNG SIWES/Internship Application
What does SIWES mean?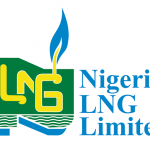 You may be wondering what does SIWES really means and how will you benefit from it.
First, Students' Industrial Work Experience Scheme (SIWES) is a programme designed to expose and prepare students of Universities, Polytechnics, Colleges of Technology, Colleges of Agriculture and Education for Industrial Work situations in which they are likely to meet after graduation.