This is to inform the general public that Amotekun Recruitment 2021 has begun – Amotekun Corps currently recruits applicants that meet the job requirement, job description, application skills, and other job requirements by the Ondo State Government.
A lot of job seekers have asked questions relating to Amotekun Corps Recruitment 2020, Amotekun website, and Amotekun salary.
In this article, we will be showing you how you can successfully apply for the Amotekun Corps Recruitment form.
You may also like; Oyo Amotekun Corps Recruitment (3000 Openings)
What is Amotekun Corps all about?
Do you know that Amotekun is the Yoruba word for Leopard? The word "Amotekun" is referred to a leopard. If you look at the logo of the security network you will notice the inscription of a leopard on it.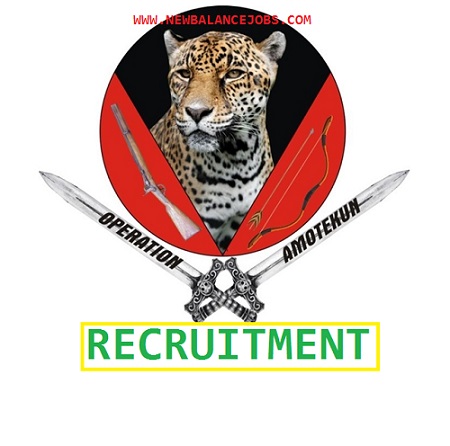 Ondo State Security Network Agency Amotekun Corps – Amotekun Corps is a security outfit based in all the six southwest states and aimed at curbing insecurity in the region.
Applications are hereby invited from suitably qualified candidates for:
Title: Amotekun Corps Recruitment
Location: Ondo, Nigeria
What are the Requirements for Amotekun Corps job?
Interested Indigenes.
Be Between ages 18 and 70 years
Minimum qualification of Primary School certificate.
What is Amotekun Salary Structure?
Before the agreed some of ₦50,000, the Members of the hunters' association rejected the proposed N13,500 monthly payment for personnel of the outfit, as it won't make the men and women of Operation Amotekun put in their best.
How to Apply for Amotekun Recruitment
Interested and qualified candidates should download the Application Forms below, fill and submit completed forms at:
Quarter 20, Government Quarters,
Alagbaka, Akure,
Ondo State.
Email: [email protected]
Alternative way of Applying for Amotekun Recruitment
You can also fill the form by Click Here to Download Application Forms.
Application Deadline
19th June, 2020.
Enter your email to get the latest on Amotekun Corps Recruitment
You can also apply for;