ATTENTION!!! FOLLOWS US ON GOOGLE NEWS and be the first to know about high paying job vacancies so you can apply IMMEDIATELY. Click here to JOIN GOOGLE NEWS.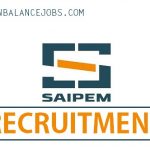 Those interested in advancing their career at saipem as Welding Supervisor in Nigeria should send their application to Saipem. Please make sure you go through the requirement before applying.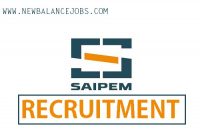 About Saipem
Saipem is a global leader in the Engineering, Procurement, Construction & Installation Businesses, with a strong inclination towards oil & gas-related activities in remote areas. We excel in the provisioning of engineering, procurement, project management and construction services, with distinctive skills and capabilities in the design and execution of large-scale offshore and onshore projects.
Job Title: Welding Supervisor
Job Ref: 432173
Location: Port Harcourt, Rivers / Offshore
Employment Type: Full Time (Project Based)
Proffessional Area: Welding, NDT, FJC Engineering
Slot: 3 Openings
Main Responsibility
Supervise execution of welding activities, checking that machineries and tools are properly used and maintained.
Prepare and coordinate the detailed programs for the assigned welding activities
Set-up the proper tools for the management of punch lists, producing adequate reports to monitor the status of the punch list points (open, closed, closure forecast dates)
Coordinate assigned team, managing interfaces with construction, engineering and commissioning team in closing out punch lists.
Organize work area for welding activities for improve HSE performance and overall efficiency.
Provide quantitative data for producing weekly progress reports.
Coordinate interfaces with prefabrication and erection activities
Job Requirements and Minimum Required Experience
A Higher Diploma / Degree or its equivalent in Engineering is required.
At least 10 years of relevant experience in welding and Fabrication
Knowledge of main Industry standards (ASTM, ASME, ACI, UPC, AWS, etc.)
Knowledge of the welding processes for offshore/fabrication yard activities (GMAW, SAW, FCAW, PAW, SMAW)
Knowledge of different international codes/standards to develop and review Preliminary Welding Procedure Specification (PWPS) and Welding Procedure Specification (WPS).
Knowledge of mechanical and metallurgical testing to be performed during Procedure Qualification Record (PQR) execution and review
Knowledge of main ND methods and equipment.