ATTENTION!!! FOLLOWS US ON GOOGLE NEWS and be the first to know about high paying job vacancies so you can apply IMMEDIATELY. Click here to JOIN GOOGLE NEWS.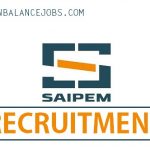 Those interested in Production Planner job in Nigeria should send their application to Saipem. Please make sure you go through the requirement before applying.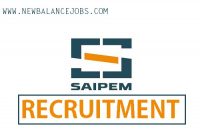 About Saipem
Saipem is a global leader in the Engineering, Procurement, Construction & Installation Businesses, with a strong inclination towards oil & gas-related activities in remote areas. We excel in the provisioning of engineering, procurement, project management and construction services, with distinctive skills and capabilities in the design and execution of large-scale offshore and onshore projects.
Job Title: Production Planner
Job Ref: 433012
Location: Port Harcourt, Rivers / Offshore
Employment Type: Full Time (Project Based)
Proffessional Area: Construction, Instal., Comm. & Ops
Slot: 2 Openings
Main Responsibility
Plan production activities according to project schedule and availability of drawings, materials and personnel.
Set up and   maintain cumulative project workload
Manage project materials, production feed and production plan.
Prepare and estimate feasible WorkPacks for production
Set up and maintain fabrication databases (material utilization factors, productivity)
Validate and analyse production feedback in respect to progress, productivity, spent hours and materials, ensuring traceability and final reconciliation
 Job Requirements and Minimum Required Experience
A Bachelor's degree or its equivalent in Engineering is required.
At least 8 years of relevant experience in fabrication production project planning.
Good knowledge of warehouse management
Knowledge of project technical documents
Knowledge of fabrication Engineering.
Good knowledge of fabrication and installation techniques
Good knowledge of  project  management  tools  &risk management techniques
Knowledge of SAP and other relevant production planning tools.