ATTENTION!!! FOLLOWS US ON GOOGLE NEWS and be the first to know about high paying job vacancies so you can apply IMMEDIATELY. Click here to JOIN GOOGLE NEWS.
Full Time
Graduate Trainee
Internship
Anywhere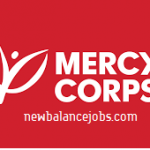 Mercy Corps recruitment for Fresh Graduate Program Interns is currently ongoing for recent graduates. Please make sure you meet the requirement before sending in your application.
About Mercy Corps
Mercy Corps is a leading global organization powered by the belief that a better world is possible. In disaster, in hardship, in more than 40 countries around the world, we partner to put bold solutions into action – helping people triumph over adversity and build stronger communities from within. Now, and for the future.
Job Title:
Program Intern – UAS-LCB
Location: Maiduguri, Borno
Length of internship: 10 months
Program / Department Summary
Mercy Corps has been present in Nigeria since 2012, focusing its interventions on humanitarian assistance, economic development, and conflict mitigation. With the ongoing insurgency in Northeast Nigeria causing the displacement of millions of individuals, Mercy Corps started its humanitarian response in 2014 to address the immediate basic needs of vulnerable communities using community-led and market-driven approaches.
As the crisis has persisted, Mercy Corps' strategy has also expanded to address the root causes of the conflict and seek to build the long term resilience of communities with integrated programs focusing on governance, the recovery of markets and livelihoods, social cohesion and social protection, youth empowerment, and localized peacebuilding and conflict management.
Mercy Corps is implementing the 'Using the Airwaves for Stability in the Lake Chad Basin' (UAS-LCB) program, which focuses on use of radio as a means to generate constructive public dialogue and debate in order to inform more participatory and effective policies, practices, and communications channels related to reintegration and reconciliation for communities in Borno State. The program will run until December 2019.
The UAS-LCB program seeks to:
Inform high quality messages around reconciliation to increase impact of radio programming and advocacy efforts
Strengthen community understanding of dynamics, developments, and options around reintegration and reconciliation
Promote opportunities for communities to provide feedback on reintegration and reconciliation that creates greater ownership, participation and sustainable implementation of policies and practices
Promote narratives of peace and reconciliation aimed at establishing a foundation for effective reintegration and reconciliation
Intern Responsibilities
Listen to daily Dandal Kura radio broadcasts in Hausa and Kanuri
Assist in transcribing quarterly Focus Group Discussion with Radio Listening Groups
Assist with regular program filing tasks in the online Google Drive
Adhere to all MC policies related to security, operations, logistics, and finance
Conduct himself/herself both professionally and personally in such a manner as to bring credit to Mercy Corps and to not jeopardize its mission
Enter data from daily radio programming to ONA tool
Support basic analysis of radio broadcast data in preparation for Monthly Snapshot reports
Other duties as assigned
Mercy Corps Responsibilities
Provide all necessary resources for the intern to conduct above tasks, including laptop, radio and internet access
Support the intern with learning opportunities related to monitoring and learning, as well as peace-building and peace media programs
Provide the intern with a monthly stipend of 60,000 NGN per month
Provide the intern with comprehensive health insurance
Learning Objectives:
Develop skills for data entry, transcription, data cleaning, and basic data analysis
Develop an understanding of key concepts related to peace media programming
Develop an understanding of professional standards and norms working in an INGO context
Knowledge and Experience for Mercy Corps Recruitment
Degree in Development Studies, Social Sciences, Statistics or other relevant field
Minimum 1 year of experience working on monitoring and evaluation
Good verbal and written communication skills
Strong computer skills, including experience with Excel and Word
Fluent oral communication skills in Hausa and Kanuri required
Fluency in written and verbal English required
Experience with data entry tools and standards
Demonstrated analytical skills and attention to detail
Good interpersonal and intercultural skills
Organizational Learning:
As part of our commitment to organizational learning and in support of our understanding that learning organizations are more effective, efficient and relevant to the communities they serve, we expect all team members to commit 5% of their time to learning activities that benefit Mercy Corps as well as themselves.
Accountability to Beneficiaries:
Mercy Corps team members are expected to support all efforts toward accountability, specifically to our beneficiaries and to international standards guiding international relief and development work, while actively engaging beneficiary communities as equal partners in the design, monitoring and evaluation of our field projects.
Accountability:
Reports Directly to: Deputy Program Manager (UAS-LCB)
Works Directly With: UAS-LCB, MEL and Operations Teams
Working Conditions
Mercy Corps interns and volunteers represent the agency both during and outside of work hours and are expected to conduct themselves in a professional manner and respect local laws, customs and Mercy Corps' policies, procedures, and values at all times and in all in-country venues.
Method of Application
Interested and qualified candidates should submit their CV and Cover Letter in one document, addressing the position requirements to: ng-recruitment.nigeria@mercycorps.org with "Job title" as the subject of the email.
Note
All applications must include the position title and Reference Number in the subject line
Please note that only short-listed candidates will be contacted for an interview
We are an equal opportunity organization so women are strongly encouraged to apply for this position
Application Deadline
10th February 2020.