ATTENTION!!! FOLLOWS US ON GOOGLE NEWS and be the first to know about high paying job vacancies so you can apply IMMEDIATELY. Click here to JOIN GOOGLE NEWS.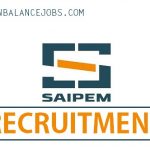 Those interested in advancing their career at saipem as Project Quality Manager in Nigeria should send their application to Saipem. Please make sure you go through the requirement before applying.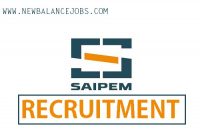 About Saipem
Saipem is a global leader in the Engineering, Procurement, Construction & Installation Businesses, with a strong inclination towards oil & gas-related activities in remote areas. We excel in the provisioning of engineering, procurement, project management and construction services, with distinctive skills and capabilities in the design and execution of large-scale offshore and onshore projects.
Job Title: Project Quality Manager
Job Ref: 136004
Location: Port Harcourt, Rivers / Offshore
Employment Type: Full Time (Project Based)
Professional Area: Qual, Health, Safety & Env
Slot: 2 Openings
Main Responsibility
Definition and implementation of the PQMS, identification, preparation and distribution of Project Quality Plans and procedures in accordance with the Company Quality Management System (QMS).
Plan and ensure Project Quality Control (QC) activities implementation
Ensure Company's QMS integrity is maintained in project execution.
Ensure implementation of Project QMS is checked and monitored through planning of quality audits.
Ensure implementation of planned quality audits, taking in account all project processes.
Lead in external audit issues for vendors and subcontractors QMS
Support Project Manager on issues of quality and interface with client and relevant  authorities' responsible for quality processes.
Ensure quality requirements are incorporated in contractual documents with vendors and subcontractors.
Analyze project  quality data  and  lead Project  Quality Management  Reviews.
Lead continuous  process   improvement  to  prevent  and eliminate potential  non-conformit ies and their causes
Job Requirements and Minimum Required Experience
A Bachelor's degree or its equivalent in Engineering is required
At least 15 years of relevant experience in Project Quality Management  with 5 years spent as a Project Quality Manager.
Good knowledge Process analysis, redesign methods and procedure development
Knowledge of Project Quality audit activities
Knowledge of Quality Management  System  Knowledge fundamentals and ISO 9001
Knowledge of main Industry standards (ASTM, ASME, ACI, UPC, AWS,etc.)
Good knowledge of  project  management tools & methodologies
Client and contracts management skills
Knowledge of budgeting and controls