ATTENTION!!! FOLLOWS US ON GOOGLE NEWS and be the first to know about high paying job vacancies so you can apply IMMEDIATELY. Click here to JOIN GOOGLE NEWS.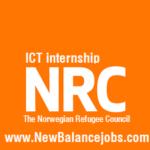 The Norwegian Refugee Council
This is to inform the general public that The Norwegian Refugee Council is currently recruiting for ICT internship position in there Borno branch.
NRC is looking for an ICT Intern for our field office in Maiduguri Borno State in North-East Nigeria. The Purpose of the Internship program is to offers fresh graduates and students the opportunity for career exploration and development; but also offers NRC the platform to bring new ideas and energy into their workplace, develop talent and potentially build a pipeline for future full-time employees
NRC initiated country operations in Nigeria in June 2015, in order to respond to the critical and increasing needs in the country. NRC currently has a full team based in Maiduguri and a coordination office in Abuja. NRC is currently providing services across various sectors namely; Shelter and Non-Food Items (NFI); Water, Sanitation and Hygiene Promotion (WASH); Food Security; and Information, Counselling and Legal Assistance (ICLA), Education in order to address identified humanitarian needs.
Job Title: ICT Intern
Location: Borno
The ICT Intern reports to the ICT Officer.
Duties and responsibilities
Adheres to and supports the implementation of NRC ICT policies and procedures, handbooks and guidelines.
Ensure I.C.T equipment, hardware, software, and other resources are made available and well maintained
Basic understanding of Networking, network systems, connectivity.
Troubleshoots, diagnoses problems, implements corrective action & procedures, monitor and facilitate repairs of Laptop, printers, scanners etc.
Sets up and configures general hardware, peripherals, and accounts assigning security level;
Monitors operate and maintain a reliable internet and network system (connectivity, etc.
Provide IT support and capacity building to users on hardware, software, peripherals and other ICT resources (internet, e-mail, intranet)
Maintain an accurate asset register and ensure all items are properly tagged.
Ensure proper filing of all documents relative to assets management as per NRC policy (Loss and damage report).
Qualifications required for ICT internship
Bachelors' degree in Computer Engineering or equivalent
Documented experience in related to network management and cloud networking
Documented results related to the position's responsibilities
Good knowledge of the Nigerian context (internet services, Networks, software/hardware authentication)
Office organization skills, Computer skills (Microsoft Office)
Good communication skills
Fluency in English, Hausa is an asset
Personal qualities
Handling an insecure environment
Planning and delivering results
Empowering and building trust
Communicating with impact and respect
Ability to work under pressure, independently and with limited supervision.
Highest standards of ethics and integrity
Communicating with impact and respect All employees of the Norwegian Refugee Council should be able to adhere to our Codes of Conduct and the four organizational values: Dedicated, innovative, inclusive and accountable
METHOD OF APPLICATION
We can offer
Commencement: December 2019
Duration: 6 months
Salary/benefits: According to NRC's general directions.
Duty station: Maiduguri with frequent travels. Travel outside Mubi is dependent on changing security conditions, especially for certain roads in the area.
An approved health certificate will be requested before the contract start.
Application procedures and CV registration: Please note that you are required to enter the geographical location for all your previous positions while registering your CV. There is no specific field for this information in our CV form, but you can use the "Company name" field for both company and location.