How to get a loan in Nigeria With Less Interest
You will agree with me that most times to get a loan in Nigeria or personal funding for your projects or ventures is not usually. That is why most people look for money lending platforms that will give them access to this cash with less interest rate.
To get a loan in Nigeria with less stress of paying back can be easy if you know how and when to get these companies or organization that has this money to give to you.
Today, financial technology companies have made getting a loan so easy in Nigeria with the new system they have successfully set up to easily access loans in Nigeria.
These Lending Industrial offer quick, cheap loans and easy with no collateral loans.
You may also like; What To Do When You Get Laid Off
Platforms to get a loan in Nigeria from
Let us look at some of these money-lending platforms in Nigeria that can assist get a Loan in Nigeria.
Aella Credit
Zedvance
Renmoney
Paylater
kwikmoney (Mines)
Rosabon Finance Quick Loan
SMEDAN
Page Financials
FINT Loan
Aella Credit
Aella Credit helps employees to get a loan between 1,500 to 700,000 and with an interest rate of about 4% – 29% depending on the amount you want to borrow.
Currently, Aella credit is available in Ghana, Nigeria, and the Philippines.
One good thing about Aella Credit is that you don't need too much paperwork, with your Andriod phone you can easily gain access to this loan.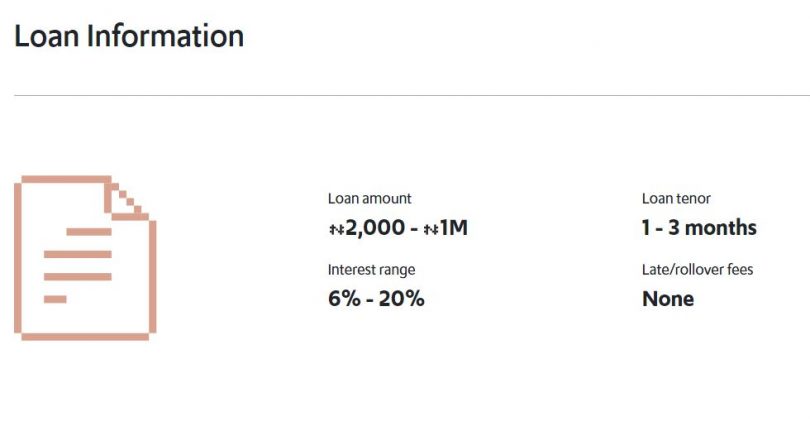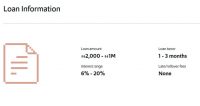 What is the requirement of getting a loan with Awela Credit?
Platform: Mobile App
Requirements: BVN
Interest rate: 4 – 29%
Top up: No
Loan tenure: 1 to 2 months
Repayment channels: Direct debit
Zedvance
With Zedvance Limited you can borrow up to 3 Million Naira in less than 24 hours with less stress and paperwork.
This FINTECH company is a consumer finance company charged with responsibility of providing consumer credit to individuals.
For Zedvance, the interest rate depends largely on how well you can bargain and the level of risk involved in your loan. It is for salary earners in the country.
Zedvance Limited's quick cash loan, interest stands between 4.0% to 4.5% and the loan amount largely depends on your net pay.
For Example; A loan worth N70,000 for 4 months will attract N82,456 in total repayment.
Renmoney
Renmony has provided over 200,000 loans to individuals and small businesses in Nigeria. The total worth of this loan can be estimated to over ₦50bn.
Renmoney personal Loans and Micro-Business Loans are designed to conveniently meet your financial needs. So, whether you're employed or run your own business, you can get a loan of up to ₦6,000,000.
Representative Example of how Renmoney work
Loan amount of ₦2,000,000 borrowed for 12 months. Interest Rate: 35.76%. Total amount payable: ₦2,715,200.
Maximum Annual Percentage Rate (APR): 35.76%. No other fees. Loan tenure: 3 – 24 months.
Paylater
This FINTECH company is a quick online lending platform that offers short term loans without collateral for urgent needs and expenses.
You can gain access to loans from N500,000 to N1 million at different interest rates between 5 to 12.6% with Paylater. The loan is determined by the risk involved and cash activities via your BVN.
Representative Example of how Paylater works
You applied for a loan of N70,000, the system automatically generated N68,500 (meaning some charges of about N2,000 have been incurred). The system also pegged interest rate at 12% monthly for a four-month repayment plan at N25,345 per month.
This simply means you will return N101,380 to Paylater in April 2020 for a loan of N70,000 in January 2020.
What is the requirement of getting a loan with PayLater?
Platform: Mobile App
Interest rate: 12 – 15% (Depending on risk level)
Repayment channels: Direct debit
Loan tenure: 3 to 12 months
Requirements: BVN, Passport photograph, and address
Top up: No
kwikmoney (Mines)
With kwikmoney you can gain access to quick, fast and less interest loan easily. You can get a loan of up to N15,000 at a 15% interest rate for 15 days (half a month) On kwikmoney.
To get a loan in Nigeria with you might like to know that kwikmoney offers both internet-based, app and USSD loan options. They also partner with banks, mobile network operators, and technology companies on a mission to make personal banking services convenient and accessible to all Nigerians.
What is the requirement of getting a loan with kwikmoney (Mines)?
Repayment channels: Direct debit
Platform: USSD, Mobile App
BVN
Loan Interest rate: 15%
Loan tenure: 1 month
Top up: No
Rosabon Finance Quick Loan
Please note that Rosabon Finance Quick Loan, you can get a loan of N70,000 for an interest rate of 4 to 6% per month.
Rosabon Finance Quick Loan happens to be one of the fastest and easiest ways to access personal loans in Nigeria with no collateral.
What is the requirement of getting a loan with Rosabon Finance Quick Loan?
Some of the requirements for getting a quick cash loan from Rosabon finance include;
Being in a paid employment, between 21 and 58 years,
Have a salary account,
Have a pension account or tax ID,
Have a valid Proof of Identification
And Lastly, recent utility bill.
FINT Loan
FINT Loan operates in a unique way. This organization matches lenders (individuals looking to lend) with creditworthy borrowers for a competitive return and at an attractive interest rate.
FINT interest rates range from 3% – 5% per month depending on the borrower's risk score.
FINT Loan also offers a quick loan with an interest rate based on risk score – using a numerical expression based on a level analysis of a person's information and net salary.
FINT charges the borrower two fees that are both one-offs payment. The first payment is a verification payment of 3,000 Naira and the second is called a closing fee of 8%. The closing fee is to be paid before disbursement of the fully-funded loan. Also, a transfer fee (1.8% + NGN100) is passed on to the borrower.
You can visit FINT official website to apply for the loan now.
SMEDAN
SMEDAN a federal government-backed initiative that offers quick and easy business loans to Nigerian SME businesses in need of financial assistance. One of the core missions of the organization is to promote entrepreneurship among Nigerians and also provide capital to start the business.
This initiative also provides business owners with hands-on training and support to help them run their business.

Get a loan in Nigeria with Page Financials
This organization is an innovative retail financial institution offering various quick personal and salary advance loans to meet the financial needs of her customers.
It takes six steps to request for a loan with page Finacial. The first one is inputting your BVN details.
For its loan, Page Financials offers a daily rate of 0.5% which accrues on its Debit card issuance also known as Pledge Finance.
The borrower can gain access to a quick loan of up to 5million naira in less than 3hours.
Also, Pledge Finance debit card is preloaded with up to N500,000 depending on your NET monthly income. Page Financials also charges a one-off fee of N1,500 for the card which is valid for 3 years.
In conclusion
To get a loan in Nigeria you can visit the official websites of this money-lending company to access the loans. Also, note that the information provided here might not be all you need to know about how to quick cash loans in Nigeria.