DAI Recruitment 2022 – We have compiled Development Alternatives Incorporated job vacancies that you might like to apply for. These jobs are for those that meet the requirement by the organization.
Today, We will be showing you some of the job vacancies that are available on the DAI careers website.
Also, We will be showing some of the key things you need to understand about the DAI Recruitment process.
About Development Alternatives Incorporated (DAI)
DAI Global, LLC is a private development company based in Bethesda, Maryland, US with additional corporate offices in London and Hemel Hempstead in the United Kingdom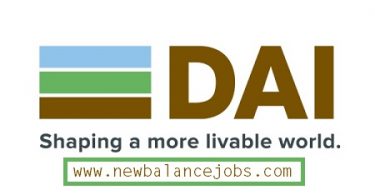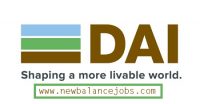 The company works on the frontlines of international development. Transforming ideas into action-action into impact. We are committed to shaping a more livable world. We tackle fundamental social and economic development problems caused by inefficient markets, ineffective governance, and instability.
Also, Development Alternatives Incorporated has a history of work in Nigeria going back to the 1970s, implementing dozens of major projects for clients including the U.K. Department for International Development, the U.S. Agency for International Development, the European Union, and the Chevron-funded Partnership Initiatives for the Niger Delta. Ongoing projects in Nigeria include conducting water, sanitation, and hygiene initiatives; empowering women to serve as nurses and midwives in Northern Nigeria; promoting more accountable, responsive, and capable state and federal governments, while building the government's capacity to develop pro-poor public policy; and boosting incomes through investment and market systems in the Niger Delta.
DAI joined forces with GRID Consulting in 2018. The combined entity—complementing DAI's global resources with GRID's deep-rooted networks, insights, and track record of delivery in Nigeria—enables DAI to serve more efficiently a growing, technically diverse, multiclient portfolio in Nigeria, and to reinvest operational savings in our work and the operating platform that supports it.
From this integrated platform, DAI is able to recruit, retain, support, and ensure the security of the people who deliver our work in Nigeria and the region, in full compliance with local laws and regulations and with DAI's global standards. As we absorb and apply the lessons of our work across clients and sectors, we continue to refine platform services and supports to partners, customers, and beneficiaries.
How to contact Development Alternatives Incorporated (DAI)
You can use the following details to Contact DAI in Nigeria. Email. Abuja Office 13b Ontario Crescent Maitama, Abuja 900271. Tel: +234 818 800 5248. Lagos Office 3a Eko Akete Close
Latest Job Vacancies at DAI careers
Below are some of the DAI vacancies below;
| | |
| --- | --- |
| Job Title | |
| Project Manager | Apply Now |
| Data Science Specialist | Apply Now |
| Public Financial Management (PFM) Advisor – Consultancy | Apply Now |
| Chief Financial Officer (CFO) | Apply Now |
| Experts – Ending Nigeria Ocean Plastics Pollution (ENOPP) Activity | Apply Now |
| Site Reliability Engineer | Apply Now |
| Technical Director – Public Financial Management (PFM) | Apply Now |
Requirements for DAI recruitment 2022
The qualification for this offer is based on the job they are recruiting for. Please use the APPLY NOW button above to view the requirements.
You can also apply for;
How to Apply for DAI Vacancies in 2022
All interested and qualified applicants are expected to read the requirement before applying for this offer. To apply for the ongoing DAI recruitment 2022, ensure you have read all the presented requirements by clicking the APPLY NOW button above.
PLEASE NOTE:
The job might not be available anymore when you visit the APPLY HERE NOW page but we promise to always give you latest update on this offer.
The jobs above are subject to change.
You have to visit regularly for the latest update.
Disclaimer: NewBalancejobs.com Do not have any influence on the recruitment process. We assist you with every information you need in regards to the application process.