ATTENTION!!! FOLLOWS US ON GOOGLE NEWS and be the first to know about high paying job vacancies so you can apply IMMEDIATELY. Click here to JOIN GOOGLE NEWS.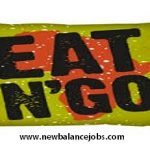 Eat 'N' Go Limited is a restaurant group on a mission to become the premier food operator in Africa. So far, our growing family consists of three international brands, Domino's Pizza, Cold Stone Creamery & Pinkberry.
Eat 'N' Go limited officially started operation in August 2012 with the premier store at 4, Saka Tinubu Victoria Island, Lagos. Today, Eat N' Go has about 100 stores (outlet) across Nigeria and still growing.
Job Title: Web Master / Cloud Administrator
Location: Victoria Island, Lagos
Job Type: Full-time
Job Description
Register web sites with search engines to increase web site traffic.
Create web models or prototypes that include physical, interface, logical, or data models.
Analyse user needs to determine technical requirements.
Develop or implement procedures for ongoing web site revision.
Develop databases that support web applications and web sites.
Develop and document style guidelines for web site content.
Renew domain name registrations.
Write supporting code for web applications or web sites.
Recommend and implement performance improvements.
Identify problems uncovered by testing or customer feedback, and correct problems or refer problems to appropriate personnel for correction.
Determining client website needs and requirements.
Building and testing aesthetic, functional and user-friendly websites.
Coordinating with designers, content providers, and management or business owners.
Design and implement web site security measures such as firewalls or message encryption
Maintaining, updating, and optimizing servers.
Monitoring and analysing site performance.
Write, design, or edit web page content, or direct others producing content. and SEO configuration.
Proactively report and solicit feedback from communications team and program staff.
Updating website content and reviewing SEO.
Addressing and responding to user comments and complaints
Contribute to discussions on ways to improve functionality and usability
Collaborating with business and technology teams to meet needs and improve efficiency
Replying  user comments and queries in a timely fashion
Managing backup servers and failover.
Provision Infrastructure as a service cloud computing for platforms such as AWS, Azure or Google.
Monitors and analyses the capabilities and performance of the systems on the cloud.
Compare, evaluate, and implement new technologies, and integrate systems into the computing environment.
Administer security configurations, patching, and troubleshooting, also helps to maintain system security strategies, policies, and procedures on the cloud computing.
Qualifications
Able to manage multiple websites
Strong working knowledge of all relevant coding languages (PHP, Javascript, HTML, CSS)
Capable of utilizing web content management systems, e.g. WordPress,
Excellent communicator, especially regarding abstract concepts
Strong understanding of Windows Server Administeration
Good Knowledge of Cloud hosting
Comprehensive understanding of Domain and DNS administration
Strong knowledge of Active Directory, Exchange, Office 365, Azure, AWS, GCP, and other Windows-based technologies is required.
The ability to configure VMs and Web Applications are added advantage.
Bachelor's degree in Computer Science or related field; master's degree is a plus
Evidence of continuing education, such as certifications, is a plus
Minimum of 3 years' experience in the technology field
Leadership and/or management experience is a plus
Strategic thinking and problem-solving skills
Interested and qualified candidates should:
Click here to apply
Note: Only qualified candidates will be contacted.