ATTENTION!!! FOLLOWS US ON GOOGLE NEWS and be the first to know about high paying job vacancies so you can apply IMMEDIATELY. Click here to JOIN GOOGLE NEWS.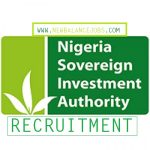 Nigeria Sovereign Investment Authority
Treasury and Strategic Planning Manager job at Nigeria Sovereign Investment Authority – Recruitment is ongoing at the Nigeria Sovereign Investment Authority
About Nigeria Sovereign Investment Authority ("NSIA" or "The Authority")
The Nigeria Sovereign Investment Authority ("NSIA" or "The Authority") is an agency of the Federation set up to manage funds in excess of budgeted hydrocarbon revenues. Its mission is to play a leading role in driving sustained economic development for the benefit of all Nigerians through building a savings base for the Nigerian people, enhancing the development of Nigeria's infrastructure, providing stabilisation support in times of economic stress.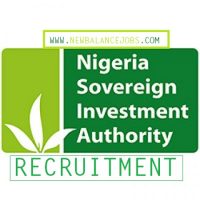 The NSIA is in the process of strengthening its operations and enhancing overall capacity towards delivering its mandate. In this regard, the Authority is seeking to recruit suitably qualified, result oriented and exceptional professionals to fill the vacant position below:
Job Title: Treasury and Strategic Planning Manager
Reference Number: NS20 / 3005
Location: Abuja
Details
Reporting to the Executive Director and Chief Operating Officer, the successful candidate wl assess, organise and manage the efficient utilization of the Authority's funds to maintain the institution's liquidity, manage overall cost of funds, support fund raising, and mitigate operational and financial risk.
This Officer will lead; financial planning, business forecasting and drive strategic analysis around key business initiatives.
Responsibilities
Develop models for potential changes to capitol structure and support acquisition and divestiture planning.
Ensure forecast accuracy by reviewing short-term and long-term trends tar the Authority's investing products
Monitor economic and market trends, anticipates potential impact on the Authority's financial soundness and proactively recommends appropriate strategies to ensure the achievement of medium and long-term financial targets
Develop and implement strategies for capital & fund structure to support acquisition, divestment, and other shareholding arrangements.
Coordinate the capital deployment review process of the Authority.
Manages risk exposure in relation to the Authority's investment and financing arrangements
Administer foreign exchange risk management and develops foreign exchange risk mitigation strategies
Oversee working capital funding and management
Utilise cash forecasting and budgeting tools to assist management in short and long-term strategic planning
Maintain a system of policies and procedures that afford an adequate level of control over treasury activities
Responsible for the setup of a robust treasury function
Support strategic business planning process of the Authority.
Partner with the various teams to formulate and appraise appropriate strategies for their respective areas and support delivery of the overall business strategy and long-range plans
Conduct financial analysis and business case development to support the corporate strategy on an ongoing basis
Perform scenario modelling for multiple initiatives and layering this into financial planning
Support fund growth through scenario planning and analysis of business opportunities
Qualifications, Experience and Attributes
Extensive experience in Assets and Liability Management
Extensive fund-raising experience
Knowledge of investment portfolio strategy and financial instruments
Advanced spreadsheet and modeling skills
Strong project management skills
Proven leadership, negotiating and influencing skills
Good understanding of the NSIA mandate, regulations and operating environment
Excellent interpersonal, organisation, networking and communication (verbal and written) skills
Able to break down problems into meaningful parts and came to rational and well-thought out conclusions
Bachelor's Degree in Accounting / Finance
MBA /Masters in finance related field is desired
A minimum of 10 years cognate experience, must have spent at least 5 years running a sizeable treasury function
Extensive experience in preparing cash forecasts and cash flow analyses
Experience in the preparation of financial schedules
Experience in building complex financial models to evaluate various financial plans
Extensive experience in strategy planning
Method of Application
Interested and qualified candidates should send their Curriculum Vitae (prepared as a Microsoft Word document, and saved with your full names) to: recruitment@hcp-ng.com please quote the role and appropriate reference number as the subject of your e-mail.
Application Deadline
Note
The role is open to Nigerians within and outside the country who have completed the National Youth Service Programme. Women are strongly encouraged to apply for this position on offer.
All applications will be treated in strict confidence. Only short-listed candidates will be contacted.