ATTENTION!!! FOLLOWS US ON GOOGLE NEWS and be the first to know about high paying job vacancies so you can apply IMMEDIATELY. Click here to JOIN GOOGLE NEWS.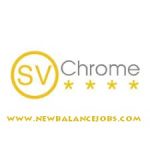 Spanish Villa Hotel recruits Food and Beverage Manager
Spanish Villa Hotel – Welcome to the new trend in Spanish design, SV Chrome Hotel! Are you looking for European Design, European Standards or European Services in Abuja? We have it all!
This meticulously finished Boutique Hotel was conceptualized by the Designers and  Architects from the Spanish 'Impacto Grupo' in Castellon (Spain) influenced by some of the great ground breaking designs from buildings in Barcelona and Valencia. The minimalist design – enhances the feeling of open space – high ceilings – and use of exclusive tiles and fabrics – to give a clean, contemporary look with peace and tranquility in mind; a place for the discerning traveler to re-energize the soul.
Job Position: Food and Beverage Manager
Job Location: Abuja
Job Description
Supervise operation and handling of all food and beverage outlets for galley area.
Monitor and ensure fulfillment of company's specified projects and maintain regulatory board of Public Health department for better output.
Develop and ensure proper surveillance of food and beverage supply units using subsidiary wings.
Administer all food and beverage facilities and ensure optimal cleanliness and safety procedures in efficient working.
Assist various departments in selection process and provide guidance to staff members according to company's rules.
Monitor all local sanitation and healthcare systems to satisfy customers.
Maintain an inventory for all food and bi monthly liquor.
Analyze and utilize various management tools to update expenses and fix bi-weekly wages for Food & Beverage Department.
Perform regular investigation concessions and bars to standardize sanitation and janitorial services plus direct closing of bars in time.
Monitor and enhance efficient upkeep of storage by cleaning and sweeping away rotten food stuff.
Supervise all ensure resolution of customer's grievances in systematic way.
Prepare weekly work schedule as per hotel requirements in assistance with restaurant employees.
Maintain efficient franchise hotel standards to provide restaurant facilities.
Maintain personal records of working staff for restaurants and provide efficient maintenance.
Maintain knowledge on all fire protection and preventive measures during emergency.
Ensure compliance to all company rules in pertinent areas.
METHOD OF APPLICATION
All those interested and qualified to work as a Food and Beverage Manager at Spanish Villa hotel should send their CV to hr@svhotelsng.com