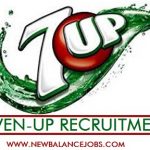 Seven-Up Bottling Company Limited
Seven-Up Bottling Company Limited recruitment for Sales Executive. Please ensure you read te job requirements before applying for this position.
Seven-Up Bottling Company Limited is one of the largest manufacturing companies in Nigeria, producing and distributing some of the nation's most- loved beverages in the country like; Pepsi, 7Up, Mirinda, Teem, Mountain Dew, H2oH!, Lipton Ice Tea and Aquafina premium drinking water. SBC has recently entered into Home & Personal Care category with the 2SURE brand and launched its first product, a Hand & Surface Sanitizer. Seven Up boasts of nine bottling plants with state-of-the-art manufacturing facilities strategically located across various regions in the country.
We are recruiting to fill the position below:
Job Title: Sales Executive
Location: Enugu
Employment Type: Full-time
Job Summary
A sales executive is responsible for helping build up thebusiness by identifying new business prospects and selling product to them.
They must build and maintain relationships with current clients andnew clients.
You must understand the sales and marketing processes and be able to negotiate with clients.
You must be able to search out business leads and trending products.
Duties and Responsibilities
Management of coverage through effective route planning, visit frequency optimization and control.
Management of distribution through wholesaler billing efficiency, must stock lists, market STR's and stock rotation.
Identify customer needs and recommend product solutions.
Work closely with salespeople and other internal teams to meet individual and group sales quotas.
Answer customer questions about features, pricing and additional services.
Cross-sell products when appropriate and collaborate with sales representatives from different territories to share best practices and support a cohesive sales approach
Report on regional sales results (weekly, monthly, quarterly and annually).
Present our products and services to prospective customers.
Any other responsibility as assigned by the ASM Manager.
Requirements
Candidates should possess an HND / Bachelor's Degree with at least 2 years relevant work experience.
Method of Application
Interested and qualified candidates should:
Click here to apply
Application Deadline  9th June, 2022.
To apply for this job please visit forms.gle.