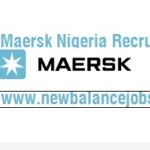 Maersk Line
Maersk is an integrated container logistics company working to connect and simplify its customer's supply chains. As the global leader in shipping services, the company operates in 130 countries and employs roughly 70,000 people. With simple end-to-end offering of products and digital services, seamless customer engagement and a superior end-to-end delivery network, Maersk enables its customers to trade and grow by transporting goods anywhere – all over the world.
We are recruiting to fill the position below:
Job Title: Customer Service Agent
Ref.: R4452
Location: Lagos, Nigeria
Employment Type: Full time
Responsibilities
Owns and manages the customer experience of Essential Services Customers.
Has responsibility for the end to end customer experience in compliance with all company procedures.
Typically handles a large number of customers or larger, more complex customers.
Manages accounts with large business Impact: The level of impact is defined by volume and/or revenue contribution to the cluster scorecard. The customer often has a certain complexity. Typically involves customers with specific needs outside the normal such as legal requirements, documentation requirements, customs restrictions or filling requirements, lack of e-channel use, specific booking requirements, and/or special cargo/dangerous cargo etc.
The person furthermore exerts a behaviour where he/she can work independently with limited guidance and is capable of supervising others where relevant.
Manages the end to end shipment process in compliance with all company procedures.
Looks after Essential Services customers.
Owns all customer issues and facilitates their timely and effective resolution by engaging relevant internal stakeholders.
Requirements
Has three to five years of experience to fulfill the role.
Application Closing Date
Not Specified.