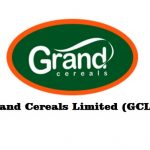 Grand Cereals Limited (GCL)
Grand Cereals Recruitment for Research Assistant. Please make sure you read the job requirements before applying for this position.
Grand Cereals Limited (GCL), a subsidiary of UAC of Nigeria Plc, is an integrated foods company whose primary activity is the creation of superior value from local raw materials to produce and deliver superior quality brands in the animal feed, edible oils, breakfast cereals, pet food and other intermediate and consumer cereals products to Nigeria and West Africa markets.
We are recruiting to fill the positions of:
Job Title: Research Assistant
Location: Jos, Plateau
Reports To: Nutrition Manager – Feeds
Purpose of Job
To provide support to the Research and Development Team on Feeds. Designs & drives all research trials and projects to closure.
Main Accountabilities
Collection of data required  by the Nutritionist.
Experimental designs and protocol development, Implementation and Reporting.
Feed Performance Evaluation and Field Complaints Review.
Innovation – research into new findings in nutrition that will be of cost advantage to the company to be presented and implemented.
Develop proposal for Trial for Feed Additives and others that will enhance performance of feed.
Monitoring of all assigned projects.
Experimental data collation and statistical analysis.
Statistical analysis of all project reports and graphical presentations for business decisions
Show readiness to build capacity in all related functions in Animal Nutrition.
Documentation and report of all activities.
Ensure that tasks are delivered based on company's Standard Operating Procedures.
Education and Experience
Minimum of Bachelor's Degree (or its equivalent) in Animal Science.
Exposure to or experience in feed mill and/or livestock production is preferred.
Skills Required:
Ability to read, analyze, and interpret technical documents.
Ability to respond effectively to sensitive inquiries or complaints
Integrity and team orientation
Intermediate proficiency in Microsoft Office, SPSS or other statistical analytical tools is an added advantage
Effective verbal and written communication skills
Self-starter; ability to drive things from start to closure
Attention to detail and strong organizational skills.
Method of Application
Interested and qualified candidates should:
Click here to apply