ATTENTION!!! FOLLOWS US ON GOOGLE NEWS and be the first to know about high paying job vacancies so you can apply IMMEDIATELY. Click here to JOIN GOOGLE NEWS.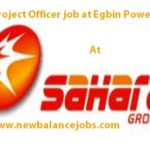 Job Title: Project Officer
Company: Egbin Power Plc
Location: Ijede, Lagos
Job Type: Full Time
Egbin Power Plc. a subsidiary of the Sahara Power Group housed along the Lagos Lagoon, is one of the biggest additions to the electricity industry in Nigeria. Presently, the largest privately owned generating power station in Sub-Saharan Africa with an Installed Capacity of 1320 MW. Egbin Power Plant was built to meet the ever rising demand for electricity in Lagos and its environs with plans to expand its generation capacity to exceed 5,000MW within the next five years.
Job Summary
To accomplish the primary goal of providing administrative and technical skills to support a project to successful completion.
Key Duties & Responsibilities
Provide day-to-day administrative support to the project manager
When required, set up team meetings, record meeting minutes and allocate actions
Support the monitoring, evaluation, impact and learning lead to monitor progress on projects
You may also be required to undertake other assignments from time to time, depending on the needs of the project.
Maintain relevant project data in various systems pertaining to capacity, new opportunities and general project records
Oversee the upkeep of project documents to ensure they are fit for use
Assist with creation of Project Initiation Documents (PID) for new projects
Assist with the collation of capacity data on a monthly basis, and communicate analysis of this to the Project Manager
Ensure that new opportunities meetings are conducted smoothly – from developing clear agendas, to recording and publishing minutes allocating actions and maintaining the New Opportunities list
Update the team's project financial reports
Coordinate the team's input to project forecasting (revenue and costs)
Process and raise PO numbers for invoices
Assist with time management and expenses against projects
Act as the link between the Project Management team and all stakeholders when required.
Be aware of, and take personal responsibility for, any health and safety issues and obligations
Uphold all aspects of the policies, procedures and legal requirements in relation to personal conduct.
Prepare for and engage in one-to-one meetings and performance management appraisals
Maintain personal professional development and personal development plans
Be willing and committed to take on new work as and when required and to be proactive.
Key Requirements
Education and Work Experience:
University Degree
Minimum of 3 years of Post NYSC work experience in a project-related environment.
Project Management Professional Certification will be an advantage.
Knowledge, Skills and Competencies
Knowledge/Skills:
Thorough familiarity with word processing, spreadsheet, and project scheduling computer applications
Ability to work effectively as a team member and independently
Ability to manage multiple priorities under pressure, trouble-shoot, and to meet short- and long-term deadlines
Demonstrated experience in budget and financial management
Excellent written and verbal communication skills
Excellent critical and creative thinking and analytical skill
Personal Attributes:
Proven relationship-building skills with good interpersonal skills
Ability to effectively communicate and interface with all levels of management
Ability to plan, prioritize and coordinate multiple concurrent projects
Proven ability to work independently, as part of a team and with initiatives to meet tight deadlines
Good planning and organizational skills, along with a high degree of detail orientation
Enthusiastic, adaptable and quick to learn
Strong level of integrity with a sound work ethic.
METHOD OF APPLICATION
Please use the link(s) below to apply on company website.