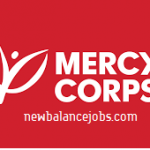 Mercy Corps
Natural Resource Management Advisor at Mercy Corps. Please make sure you read the job requirements before applying for this position.
Mercy Corps is a leading global organization powered by the belief that a better world is possible. In disaster, in hardship, in more than 40 countries around the world, we partner to put bold solutions into action – helping people triumph over adversity and build stronger communities from within. Now, and for the future.
We are recruiting to fill the position below:
Job Title: Natural Resource Management Advisor
Requisition Number: NATUR002177
Location: Yola, Adamawa
Job Category: Programming
Job type: Full-Time
Travel Required: Yes
Supervisory Responsibility: None
Program Summary
Mercy Corps has been present in Nigeria since 2012, focusing its interventions on adolescent girls' empowerment, economic and market development and conflict mitigation. With the insurgency spilling over from the Northeast of Nigeria and causing displacement of millions of individuals, Mercy Corps started its humanitarian response in 2014 to address the rising humanitarian needs.
With funding from institutional donors, foundations and private corporations, Mercy Corps continues to provide assistance to meet the basic needs of vulnerable populations in the areas of food security, shelter, water and sanitation, protection, and livelihoods.
With the recognition of the protracted crisis in Northeast Nigeria, Mercy Corps' strategy and expansion plans aim to address the root causes of the crisis and seek to build long term resilience of communities with integrated programs focusing on the recovery of markets and livelihoods, social cohesion and social protection, and youth empowerment with emphasis on adolescent girls and boys.
With multiple funding streams from large institutional donors and foundations, Mercy Corps' programs in Northeast Nigeria continue to scale up and serve communities by transitioning them from humanitarian aid to early recovery programs.
General Position Summary
This role will support the new EU funded pilot project COMITAS – or Contributing to the Mitigation of Conflict over Natural Resources between Farmer and Herder Communities in Adamawa State.
The project will be implemented through a Consortium led by IOM in partnership with Mercy Corps and Search for Common Ground.
While clashes are often understood in ethno-religious terms due to the spread of unreliable information, competing for claims to land, water and other natural resources are at the root of growing tensions between farmer and herder communities in Nigeria.
The project aims to contribute to the mitigation of conflict over natural resources with Mercy Corps capitalizing on its trusted relationships with local stakeholders across Nigeria's Middle Belt to continue to empower communities to prevent and respond to violence by strengthening collaboration on natural resources management.
To achieve its goal COMITAS is structured around four pillars built on each of Consortium partners' expertise and strengths:

Strengthen traditional conflict resolution in the targeted locations in Adamawa state;
Improve trust in authorities' commitment to providing security and adequate resource management;
Enhanced collaboration in managing the use of natural resources;
Improve Intra and inter-communal perceptions.

The Natural Resources Management (NRM) Advisor will provide senior leadership of the program's technical components, ensure the synthesis of technical approaches across the implementation areas, and will assume responsibility for leading all the technical trainings and translating program learning into tangible adjustments to intervention strategies.
S/he will work to address the root causes of conflict between farmers and herders' communities by enhancing communities' collaboration on natural resources and establishing natural resource management committees and will work in close in synergy with the Conflict and Governance Specialist to identify and implement immediate conflict prevention or mitigation measures, such as the rehabilitation of critical infrastructure along transhumance corridors.
The NRM in collaboration with the communications team will disseminate key findings and lessons learned in research briefs, white papers, and reports.
Essential Job Functions
Programme Quality Oversight:
Provide leadership and strategic vision to NRM technical components of COMITAS program, including work plan development, conflict and stakeholder analysis, NRM training, partnership selection and management, and overall sector strategy.
In close partnership with the Programme Manager, provide direct oversight to COMITAS Learning and Program Monitoring and Quality Technical Unit.
Encourage systematic opportunities to use data for learning and improvement, and to focus on learning lessons throughout the life of the program.
Technical Leadership:
Provide technical leadership and guidance in the implementation and management of innovative NRM initiatives aligned to the Program logical framework and project impact goal.
Provide sector oversight and guidance in the implementation of NRM activities aligned with the project log frame and budget.
Recognize opportunities for innovative action and create an environment where alternative viewpoints are welcomed.
Program Implementation:
Work with Consortium Partners and other implementing partners on the NRM components of the project.
Conduct periodic field visits to ensure the quality and integrity of project implementation, including adherence to technical guidelines, administrative systems, and established deadlines.
In collaboration with the Conflict and Governance Specialist strengthen sustainable management and enhanced collaboration over natural resources between farmers and herders' communities in the crisis-affected areas in a conflict-sensitive manner.
Integrate community approaches, conflict and gender sensitivity and capacity building into NRM activities as appropriate.
Provide technical and sector inputs to/ during planning, organizing and coordination of project monitoring processes, assessments, surveys, research and evaluations.
Support the Field Manager in ensuring that the overall goal and specific objectives align to the NRM and conflict mitigation component of the project.
Develop a detailed activity plan for the NRM component and submit it to the field manager for review and re-alignment with the main work plan within the first month of employment.
Compile and submit in time for review; evidence-based weekly, monthly, quarterly, bi-annual and annual technical reports and activity plans
Develop and submit weekly and monthly activity plans in time for review and prior to implementation.
Ensure integration and coordination with other components within the project for the attainment of holistic project impact.
Capacity Building and Learning:
Develop a clear capacity building plan to build the technical capacity of project staff in NRM skills that are relevant to the project through training and continuous mentoring.
Provide NRM analysis, trainings and technical assistance to team and Consortium partners.
Contribute to the development and standardization of best practices, in collaboration with Consortium partners.
Disseminate key findings and lessons learned to internal and external stakeholders, in collaboration with Consortium partners.
Strengthen linkages with other internal resources, including the LMS, Digital Library, Hub, and
Connect, to enhance organizational learning where relevant to M&E.
Team Management:
Sustain a work environment of mutual respect you and other team members strive to achieve excellence.
Promote accountability, communicate expectations and provide constructive feedback via regular performance reviews.
Provide other team members with information, tools and other resources to improve performance and reach objectives.
Finance & Compliance Management:
Ensure compliance with donor and Mercy Corps regulations related to the project implementation.
Draft and /or review scope of work to hire and manage any technical consultants, including review for technical efficacy and contract budget
Influence and Representation:
Identify, build and manage collaborative partnerships with consortium partners, local governments and other stakeholders.
Communicate effectively to ensure project implementation targets and technical quality standards are met.
Participate in coordination meetings and workshops to the project at both Local and State level as delegated.
Security:
Ensure compliance with security procedures and policies as determined by country leadership.
Organizational Learning:
As part of our commitment to organizational learning and in support of our understanding that learning organizations are more effective, efficient and relevant to the communities they serve, we expect all team members to commit 5% of their time to learning activities that benefit Mercy Corps as well as themselves.
Accountability to Beneficiaries:
Mercy Corps team members are expected to support all efforts toward accountability, specifically to our beneficiaries and to international standards guiding international relief and development work, while actively engaging beneficiary communities as equal partners in the design, monitoring and evaluation of our field projects
Accountability
Reports Directly to: Program Manager – COMITAS
Works Directly with: Senior Program Officer, Senior MEL, Field Manager, Finance, and Operations teams. Coordinates with HQ Program Performance team and the Technical Support Unit.
Knowledge and Experience
BA / Sc. in relevant field or other similar fields; MA / MS / MBA or equivalent preferred in Natural Resources Management, Peace and Conflict Studies, International Relations, Social Sciences or another relevant field.
Minimum of 4 years working experience in a similar context.
Strong management skills, with a good understanding of relevant cross-cultural issues in a highly insecure environment.
Experience working in Adamawa state is strongly preferred.
Demonstrated attention to detail, ability to follow procedures, meet deadlines and work independently and cooperatively with team members.
Excellent writing, editing and analytical skills and ability to formulate well-targeted documents.
Ability to work independently in a fast-paced and often demanding environment.
Experience in an NGO (local or international) or research institution
Strong interpersonal and communication skills; ability to develop good relationships with a wide range of actors required.
Good organizational skills, ability to make recommendations for improvement and contribute to overall program strategy.
Perfect knowledge of English, knowledge of Hausa is a plus
Willingness to travel throughout the different project areas.
Experience in conducting trainings and workshops is desirable.
Experience with monitoring and evaluation is an advantage.
Success Factors:
The successful NRM Advisor will have a demonstrated ability to lead and communicate effectively with team members of varied work styles and cultures, follow procedures, and meet deadlines with flexibility and creativity in planning and problem-solving.
S / he will have a proven ability to learn quickly, multi-task, prioritize, take initiative, be accountable for results, understand the larger picture while remaining focused on the details, problem solve, work within a complex and sensitive setting, and follow laws and security protocols.
The most successful Mercy Corps staff members have a strong commitment to teamwork and accountability, thrive in evolving and changing environments and make effective written and verbal communication a priority in all situations.
Living Conditions / Environmental Conditions:
The position will be based in Yola, Adamawa State, Nigeria and requires frequent travel to other field locations as well as Abuja.
Considering the frequent travel from/to different field locations, this position will require flexibility in terms of accommodation and logistics.
Housing in the field will be in hotels or guesthouses where available. Security in the field locations require additional vigilance and accessibility will be reassessed continuously. Access to good medical services in the field is limited.
Phone communication, internet, electricity and water is available but might be erratic. The location is not eligible for hardship and R&R benefits. Given the nature of the response, working hours require flexibility and working through weekends/evenings might be necessary.
Application Closing Date
9th February, 2022.