ATTENTION!!! FOLLOWS US ON GOOGLE NEWS and be the first to know about high paying job vacancies so you can apply IMMEDIATELY. Click here to JOIN GOOGLE NEWS.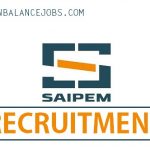 Those interested in advancing their career at saipem as Maintenance and Inspection Manager in Nigeria should send their application to Saipem. Please make sure you go through the requirement before applying.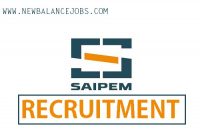 About Saipem
Saipem is a global leader in the Engineering, Procurement, Construction & Installation Businesses, with a strong inclination towards oil & gas-related activities in remote areas. We excel in the provisioning of engineering, procurement, project management and construction services, with distinctive skills and capabilities in the design and execution of large-scale offshore and onshore projects.
Job Title: Maintenance and Inspection Manager
Job Ref: 442007
Location: Port Harcourt, Rivers
Employment Type: Full Time (Project Based)
Proffessional Area: Assets Maintenance
Slot: 2 Openings
Main Responsibilities
Ensure proper planning, utilization and Assets availability.
Plan and conducts physical inspections on Assets and inventories.
Provide technical support on Asset management
Ensure lifting equipment certification scheduling and renewal
Control planning and fixed Asset utilization.
Ensure management fixed fabrication equipment, lifting gears, and fixed infrastructures.
Schedule and ensure Assets and  Equipment overhauls/maintenance and co-ordinate their implementation
Manage inspections and maintenance activities on machineries and equipment while respecting fabrication schedule
Effective implementation of inspections and maintenance plan.
Job Requirements and Minimum Required Experience
Degree or its equivalent in Engineering is required.
At least 15 years of relevant experience in Assets Management and Maintenance
Knowledge of tool and software for assets maintenance and management.
Knowledge and application of  preventive  maintenance techniques.
Knowledge of spare parts management, Client Supply Chain Workflow (PR/ PO/ requisition, FAT/SAT, etc.) and warehouse management principles.
Knowledge of lifting equipment working principles and specific criticalities for cranes, davits, frames, and various lifting devices.
Knowledge stock management
Knowledge of  Maritime  Laws  and  regulations  Management System (ISM, ISPS,MLC2006)
Knowledge of adequate Personal Protective Equipment  – purpose, use and maintenance
Knowledge of permit to work system
Knowledge of Quality Management System fundamentals and IS09001