ATTENTION!!! FOLLOWS US ON GOOGLE NEWS and be the first to know about high paying job vacancies so you can apply IMMEDIATELY. Click here to JOIN GOOGLE NEWS.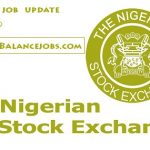 The Nigerian Stock Exchange is recruiting for Business Development Manager.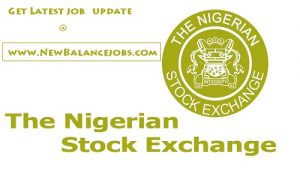 About the Company
The Nigerian Stock Exchange, services the largest economy in Africa, and is championing the development of Africa's financial markets. The Exchange offers listing and trading services, licensing services, market data solutions, ancillary technology services, and more. It is an open, professional and vibrant exchange, connecting Nigeria, Africa and the world.
Job Title: Business Development Manager
Company: Nigerian Stock Exchange
Location: Lagos
Job Description
Key Responsibilities
Drive the business of the X-Academy – the learning hub of The Nigerian Stock Exchange, offering specialized courses on capital market topics and financial education
Plan the annual training calendar for the Academy and review contents periodically, ensuring alignment of information made available to the public across all platforms (web, brochure, etc)
Identify and establish relationships with professionals and subject matter experts within and outside the finance sector to facilitate programmes
Identify and establish affiliations with professional bodies and institutions for technical support, programme accreditation, etc
Liaise with staff in NSE Branches to generate leads for potential clients to subscribe to programmes of the Academy
Coordinate design of programmes for the Academy in collaboration with subject matter experts and content owners
Coordinate planning, implementation and evaluation of programmes offered by the X-Academy
Provide inputs in developing metrics, analytics and reporting based on programs and participants feedback that demonstrates results of learning activities delivered by members of faculty
Gather and analyze data (feedback and surveys) and other necessary information on pre- and post-learning and prepare analytics for
Management reports and for further development of revenue generating courses or services. Conduct follow-up studies of all completed programmes to evaluate feedback from participants and measure impact of training
Achieve set targets for the X-Academy on volume (number of programmes) and value (revenue)
Aggressively promote the Academy via multiple platforms to drive subscriptions to programmes and ensure return on investments
Tracking and generating leads for potential clients interested in programmes offered by the X-Academy
Act as a point of contact to vendors and clients on all administrative and support issues. Ensuring that issues are addressed in a highly responsive and friendly manner
Ensure that programmes are consistent with promoting knowledge of the Capital Market in general and The Exchange in particular
Develop a holistic learning approach that addresses basic knowledge of
Capital Market topics and new developments due to evolution in the industry
Liaise with Vendors, Faculty Members, Departmental Heads, Training
Facilitators, and other stakeholders for technical assistance or any other support as required
Develop and periodically update the X-Academy policies, guidelines, and Standard Operating Procedures (SOPs)
Conducting regular research and liaising with professionals across various industries to ensure best practices are deployed at the X-Academy
Identify and generate leads or prospective clients for the X-Academy courses/programmes and other X-Academy services
Grow the X-Academy client base by managing prospects and converting them into actual clients
Manage already existing client base to ensure repeat business and retention of clients
Develop targeted and strategic marketing plans, proposals and other campaign/awareness materials for all X-Academy services, whilst ensuring timely and strategic execution
Establish new affiliations for partnerships
Work with the X-Academy team to ensure revenue targets are met
Functional Competencies:
Business Development
Marketing
Project Management
Sales
Ability to manage multiple projects in a fast-paced and deadline driven environment
Analytical and critical thinking skills.
Knowledge of learning program development/management
Confident public speaker
Behavioral Competencies:
Open-minded with the ability to follow instructions and deliver quality results
Ability to maintain a high level of confidentiality in handling sensitive information
Display emotional intelligence, stability and adaptability
Knowledge of Nigerian education and labour laws
Qualifications and Experience
HND/ Bachelor degree in Social Science or other related disciplines.
Membership of a professional body CIPM, CIPD, NITAD, PMI, SHRM, CMI etc is an advantage.
Minimum of five (5) years of progressive experience in delivering Learning and Development functions or managing a
Corporate Academy (Training School).
Method of Application.
Interested and Qualified Candidates should Kindly APPLY HERE