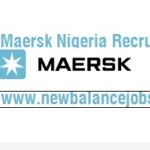 Website APM Terminals
APM Terminals is the global terminal operating arm of the A.P. Moller-Maersk Group. APM Terminals operates a Global Terminal Network of 76 operating port and terminal facilities and 117 Inland Services operations in 59 countries around the globe.
Job title: Sales Executive
Company: APM Terminals 
The role of Sales Executive is designed to grow volume and revenue to increase Maersk share of wallet in line with commercial direction through efficient engagement with customers focusing on building relationship .
The role manages sales pipeline for own accounts and ensures accurate forecasting while taking ownership of assigned accounts with a view to developing them.
We offer
You will be an essential part of the company's success and get a high degree of personal responsibility.
You will be working in a truly international environment and cooperate closely with your colleagues throughout the world.
You will also be a connector by the Customer needs into the Maersk potential solution.
Key responsibilities
Grow and maintain existing account, customer relationship management.
Schedule and execute customer phone meetings and customer meetings.
Attract and develop new customers.
Clearly map stakeholders and understand their needs.
Create and manage specific customer plans allowing Maersk to maximize its yield potential.
Keep abreast of market developments and report relevant information to trade team and Sales Manager.
Proactively assist Finance and Customer Service in clearing outstanding invoices and longstanding containers respectively.
Use Market Mapping to identify total potential volume for the customer.
Build strong customer specific value propositions linking Maersk differentiators to customer's pains/needs.
We are looking for
A minimum of 2 years of experience in Sales, preferably in Logistics.
A Strong ability to develop winning customer value propositions.
Capable of building solid rapport over the phone and actively manage call flow.
A good communicator, able to build and maintain a strong network of customers.
Someone who thoroughly understands customer drivers, needs and requirements and is capable of overcoming objections.
How to apply
Use the link(s) below to apply on company website.