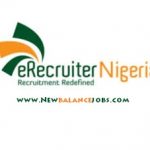 eRecruiter Nigeria recruits Business Manager – GYM (Fitness)
Job Information
Job Opening ID: ERJ1112
Job Title: Business Manager – GYM ( Fitness )
Location: Lagos
Postal Code: 1000001
Salary: Negotiable
Job Description
Our Client is a foremost fitness centre with presence in two states in Nigeria and still counting. They now have an opening for a 
Business Manager
Responsible for management and day-to-day operations of the fitness centre with specific responsibilities for 
business development, client services, facilities and vendors/suppliers management and human resources
coordination to improve market position and achieve financial growth.

Core working relationship
External Relationships – Customers, vendors & suppliers and gym users


Internal Relationships – CEO and other staff members



COMMERCIAL (Business Development)
● Identifies market trends by researching industry and related events, publications, and announcements; tracking main competitors/leaders and their strategy.
● Locates or proposes potential business deals by contacting potential customers/businesses; discovering and exploring opportunities.
● Screens potential business deals by analyzing market strategies, deal requirements, potential, and financials; evaluating options; resolving internal priorities.
● Closes new business deals by coordinating requirements; developing and negotiating service level agreements; integrating SLA-requirements with business operations.
● Protects organization's value by keeping information confidential.
● Keep records and monitor invoices, accounting, bank processes, and money-handling procedures.
● Preparing weekly and monthly financial performance reports timely and accurate.
● Develop, propose and maintain workout programs both general and customer-specific
● Develop recruitment guidelines for Gym Instructors/Consultants and develop job descriptions
● Develop information and ability overview of technical staff as input for succession planning and weekly planning of schedules and work assignments.
● Organize trainings, seminars and meetings for professional growth of gym instructors/consultants.
● Recruit new staff and after appointment by the chairman ensure they are appropriately inducted by developing operational guidelines and performance review sheet based in job responsibilities;
● Coordinate and supervise activities of all staff and ensure satisfactory execution of their duties by holding weekly team meetings and submit weekly and monthly schedule of all duties assigned to each staff;
● Execute quarterly performance review of all support/admin staff based on agreed performance goals, including leave status and sick recording.  
● Responsible for vehicle registration/renewal of licenses and vehicle maintenance on schedule
● Responsible for day to day operation of the gym and ensure outstanding  customer experience consistent with agreed level of service;
● Responsible for processes associated with payment of membership dues
● Ensure the gym is a friendly and welcoming place by maintaining cleanliness and tidiness of the gym and its premises at all times using work schedules and activities;
● Manage the ongoing maintenance of the gym to ensure safety of users and that the facility, equipment, furniture, appliances, fixtures and fittings remain in optimal and functional state by developing and implementing maintenance guidelines including safety rules.
● Ensure that all assets of the business are properly insured as and when due.
● Manage Lease Agreements of the gym to ensure compliance with the terms of the contract.
● Develop Service Agreements defining business relationship with vendors before engagement and ensure adherence to same;
● Conduct formal after-checks to ensure suppliers render services in accordance with regulations and meet their commitments;
● Undertake regular periodic inventory checks and report on all gym consumables.
Requirements
● Ability to offer effective leadership and think strategically

● A high standard of integrity, discretion, tact and maintaining confidentiality

● Good problem solving and analytical skills

● Good working knowledge of the MS Office Suite

● Excellent communicator: written and verbal

● Goal oriented, organized team player

● Aptitude for identifying opportunities for improving performance
Key Performance Indicators (KPIs)
​
● 

Organizational effectiveness in terms of procedures, processes and culture



● Cleanliness, tidiness and general ambience of the gym
● Number of new businesses/customers generated
● Revenue and profit generated within the period versus budget
● Reduced downtime of gym equipment and facilities vis-a-vis timely and appropriate maintenance of vehicles, equipment and other gym facilities
● Positive feedback from customers and subordinates
● Quality of customer service and gym user experience
● Adequacy of security measures in place at the gym