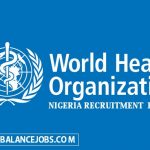 World Health Organization (WHO)
Driver Job at World Health Organization (WHO). Please make sure you read the job requirements before applying for this position.
World Health Organization (WHO) is the directing and coordinating authority for health within the United Nations system. It is responsible for providing leadership on global health matters, shaping the health research agenda, setting norms and standards, articulating evidence-based policy options, providing technical support to countries and monitoring and assessing health trends.
We are recruiting to fill the position below:
Job Title: Driver
Jb ID: 2106342
Location: Abuja, Nigeria
Grade: G2
Schedule: Full-time
Contractual Arrangement: Fixed-term appointment
Contract Duration: (Years, Months, Days): 2 years
Organization: AF_NGA Nigeria
Objectives of the Programme
Country Management Support Units (CSUs) have been established in the organisational structure to provide support for Managers and staff to fully assume their responsibilities in the GSM environment and to ensure compliance with organizational policies, procedures, rules and regulations on all administrative and financial matters and transactions in the context of an Enterprise Resource Planning (ERP) system.
Description of Duties
Under the direct supervision of the NPO / Operations Officer, the incumbent performs the following duties: Drives office vehicles to provide transportation of authorized personnel and delivery and collection of mail, documents and other items
Meets official personnel at the airport andfacilitates immigration and customs formalities as required
Responsible for the day-to-day maintenance of theassigned vehicle, checks oil, water, battery, brakes, tires, etc., performs minor repairs and arranges for other repairs, regular servicing and ensures that the vehicle is kept clean
Logs official trips, daily mileage, gasconsumptions, oil changes, greasing, etc.
Ensures that the steps required by the rules andregulations are taken in case of involvement in accident
Performs other duties as required.
Required Qualifications
Education:
Essential: At least a Junior Secondary School education and a valid driver's licenceof the country.
Experience:
Essential: At least one year driving experience as a driver and Asafe driving record.
Desirable: UN experience would be an advantage.
Skills:
Knowledge of driving rules and regulations of the country and skills in minor vehicle repair
Ability to read, write and understand instructions in the working language and An ability of writing a concise and faithful report of the accidents.
WHO Competencies:
Teamwork
Respecting and promoting individual and cultural differences
Communication
Producing results
Knowing and managing yourself.
Use of Language Skills:
Essential: Expert knowledge of English.
Remuneration
WHO offers staff in the General Services category an attractive remuneration package, which for the above position includes an annual net base salary starting at NGN 3,669,861 (subject to mandatory deductions for pension contributions and health insurance, as applicable) and 30 days of annual leave.
Application Closing Date
16th December, 2021; 11:59:00 PM.
Method of Application
Interested and qualified candidates should:
Click here to apply online
Important Notice: Please note that the deadline for receipt of applications indicated above reflects your personal device's system settings.
Additional Information
This vacancy notice may be used to fill other similar positions at the same grade level
Only candidates under serious consideration will be contacted.
A written test may be used as a form of screening.
In the event that your candidature is retained for an interview, you will be required to provide, in advance, a scanned copy of the degree(s)/diploma(s)/certificate(s) required for this position. WHO only considers higher educational qualifications obtained from an institution accredited/recognized in the World Higher Education Database (WHED), a list updated by the International Association of Universities (IAU)/United Nations Educational, Scientific and Cultural Organization (UNESCO). The list can be accessed through the link: http://www.whed.net/. Some professional certificates may not appear in the WHED and will require individual review.
Any appointment/extension of appointment is subject to WHO Staff Regulations, Staff Rules and Manual.
Staff members in other duty stations are encouraged to apply.
For information on WHO's operations please visit: http://www.who.int.
WHO is committed to workforce diversity.
WHO prides itself on a workforce that adheres to the highest ethical and professional standards and that is committed to put the WHO Values Charter into practice.
WHO has zero tolerance towards sexual exploitation and abuse (SEA), sexual harassment and other types of abusive conduct (i.e., discrimination, abuse of authority and harassment). All members of the WHO workforce have a role to play in promoting a safe and respectful workplace and should report to WHO any actual or suspected cases of SEA, sexual harassment and other types of abusive conduct. To ensure that individuals with a substantiated history of SEA, sexual harassment or other types of abusive conduct are not hired by the Organization, WHO will conduct a background verification of final candidates.
WHO has a smoke-free environment and does not recruit smokers or users of any form of tobacco.
This post is subject to local recruitment and will be filled by persons recruited in the local commuting area of the duty station.