ATTENTION!!! FOLLOWS US ON GOOGLE NEWS and be the first to know about high paying job vacancies so you can apply IMMEDIATELY. Click here to JOIN GOOGLE NEWS.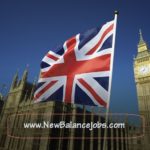 Defence Reform Advisor recruitment at The British Government
The British Government is an inclusive and diversity-friendly employer.  We value difference, promote equality and challenge discrimination, enhancing our organisational capability. We welcome and encourage applications from people of all backgrounds. We do not discriminate on the basis of disability, race, colour, ethnicity, gender, religion, sexual orientation, age, veteran status or other category protected by law. We promote family-friendly flexible working opportunities, where operational and security needs allow.
Defence Reform Advisor
Ref No: 46/19 ABJ
Location: Abuja
Grade: C5 (L)
Job Category: Other British Government Departments (Partners across Government, including UK Visas)
Type of Position: Fixed Term
Working hours per week: 37
Duration of Post: 24 months
Start Date: 1 March 2020
Main Purpose of Job
The jobholder will work closely with the Armed Forces of Nigeria and Ministry of Defence to support development and implementation of strategic reform programmes.
They will support and directly report to the Hd British Defence Staff West Africa/Defence Adviser in delivering a range of UK Defence Engagement objectives including defence reform, defence sales and institutional capacity building.
They will be expected to manage significant networks of Nigerian defence interlocutors and UK cross government stakeholders, both at post and in Whitehall, including at senior levels.
Roles and Responsibilities
Develop relationships with key interlocutors in the Nigerian Armed Forces and Ministry of Defence.
Provide advice to help shape and develop the North East Nigeria Security and Stability Programme.
Support initiatives to reform Nigerian defence procurement and modernisation strategy.
Engage cross Whitehall (x-WHL) and Inform HMG Policy.  This will require consultation and communication across several partners so to advise on the development and updating of UKs Africa strategy and policy.
Contribute to Defence Policy development.  In line with HMG policy help develop the UK Defence policy which supports the Africa strategy.
Be the principle officer providing policy advice to UK military personnel.
Draft Ministerial Submissions (MINSUBs) on behalf of UK Defence policy that will require ministerial approval such as those that maybe required to support procurement and modernisation programmes.
Draft and mange Overseas Security and Justice Assessments (OSJAs) on behalf of the UK Defence programme and ensure that they reflect the International Human Rights Legislation (RISK) that the UK may face when working with specified units within the Armed Forces of Nigeria.
Capture Strategic Lessons learnt during the course of your appointment so to inform future plans and decisions.
Provide advice and support to the WA Defence Adviser network.
Essential Qualifications, skills and experience:
Professional background in defence and security sectors
Desirable Qualifications, Skills and Experience: 
Experience at successfully working X-HMG, and of successfully engaging and managing multiple stakeholders.
Experience in the UK Africa Strategic Policy.
Dual Nationality (UK/Nigeria)
Required competencies:
Making Effective Decisions, Leading and Communicating, Collaborating and Partnering, Engaging Internationally
Starting Monthly Salary
NGN 1, 191, 637
Other benefits and conditions of employment  
Nigeria is one of HMG's highest priorities in Africa. Nigeria is Africa's most populous country (c180m), its largest economy and the world's twelfth largest oil producer. One in five Africans are Nigerian. Two thirds of Nigeria's c180m people live on under $1.25 a day. By 2050 its population is expected to grow to around 440m. Set against these opportunities, Nigeria faces enormous challenges, including major security threats (for instance: Boko Haram in the north-east, and insecurity in areas such as the Niger Delta), huge corruption, tensions over land, resources, jobs, and a fragile economy.
These challenges affects the Nigerian government's ability to deliver effectively on security, development and prosperity – in a country which is home to a quarter of Africa's extreme poor. Nigeria has the potential to be major force for development across the continent. It has a strong influence on African politics, peace and security, and trade through ECOWAS/AU, and is a major contributor to peacekeeping.
Additional Information
Please complete the application form in full as the information provided is used during screening.
Please check your application carefully before you submit, as no changes can be made once submitted.
The British High Commission will never request any payment or fees to apply for a position.
Employees recruited locally by the British High Commission in Post are subject to Terms and Conditions of Service according to local employment law in Country.
All candidates must be legally able to work and reside in the country of the vacancy with the correct visa/work permit status or demonstrate eligibility to obtain the relevant permit.
The responsibility lies on the successful candidate to;

Obtain the relevant permit
Pay fees for the permit
Make arrangements to relocate
Meet the costs to relocation

The British High Commission do not sponsor visas/work permits except where it may be local practice to do so.
Employees who are not eligible to pay local income tax: e.g. certain third-country nationals and spouses/partners of UK diplomats will have their salaries abated by an equivalent amount.
Information about the Foreign and Commonwealth Office Competency Framework can be found on this link: https://www.gov.uk/government/publications/civil-service-competency-framework Please note: AA=A1, AO=A2, EO=B3, HEO=C4, SEO=C5
Reference checking and security clearances will be conducted on successful candidates.
Please log into your profile on the application system on a regular basis to review the status of your application.
METHOD OF APPLICATION
Please use the link(s) below to apply on company website.