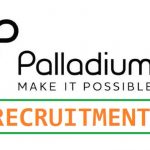 Palladium Group
Data Analyst, Nigeria IHP (Kebbi) at Palladium Group. Please make sure you read the job requirements before applying for this position.
Palladium is a global leader in the design, development and delivery of Positive Impact – the intentional creation of enduring social and economic value. We work with foundations, investors, governments, corporations, communities and civil society to formulate strategies and implement solutions that generate lasting social, environmental and financial benefits.
We are recruiting to fill the position of:
Job Title: Data Analyst, Nigeria IHP
Reference ID: req12818
Location: Kebbi
Project Overview and Role
Palladium seeks a Data Analyst for the five-year, USAID-funded Nigeria Integrated Health Program (IHP) – Task Order 4 – Kebbi. The goal of IHP is to contribute to state-level reductions in child and maternal morbidity and mortality and to increase the capacity of health systems (public and private) to sustainably support quality PHC services.
The purpose of Task Order 4  is to implement priority primary health interventions in Bauchi state to strengthen the state government area (LGA), and ward level health systems. The objectives of the program are a) strengthen systems supporting primary health care (PHC) services b) improve access to PHC services; and c) increase quality of PHC services. Strong engagement and collaboration with state government is expected throughout the program.
Task Order 4  will coordinate closely with other USAID activities and other development partner programs in the state. USAID will intentionally overlay this activity with other Mission programming to increase Government of Nigeria (GON) resources for PHC services, increase demand for PHC services, and improve access to essential commodities. The activity is expected to collaborate closely with those other implementing partners and will not undertake any activities already implemented by other USAID programs.
There are five openings for the Data Analyst position based at  3 locations in Task Order 4; two positions in Zuru, two positions in Jega, and one position in Arewa.
Primary Duties and Responsibilities
Responsible for monitoring, analysing, and reporting HMIS data.
Analysis and troubleshoots HMIS user issues to implement a resolution or escalate the case to Pathways staff.
Provides ongoing training and technical assistance to HMIS users via email, phone, and webcast, and on site as appropriate.
Leads the development and implementation of data quality, management, and analysis plans.
Provides on-site data quality assessment of LGA, health facilities, and others by assisting with implementation planning, including data entry process improvement.
Prepares regular and ad-hoc reports, analysis, presentations, charts, graphs, and other documents as assigned.
Performs data quality checks and monitors for gaps.
Data Analyst reports to the MEL/HMIS Specialist, Kebbi State.
Required Qualifications
The Data Analyst will have some experience and up-to-date knowledge and skills in M&E and MIS for health systems and healthcare provision. S/he must be familiar with the HMIS data context at the State level and working with health facilities and LGA for data collection, reporting and use. S/he should have experience with USAID / International donor programs. Additional qualifications include:
A Bachelor's Degree / HND in Demography, Statistics, Social Sciences, Public Health, Health Information Management or related field.
Minimum of 2 years of working in M&E / HMIS for public health.
Experience in using NHMIS Tools and DHIS2.
Competency in MS Word and Excel.
Good oral and / or written communication skills.
Experience in facilitation of training workshops and onsite mentoring of health workers.
Fluent in English (written and oral communication) and Hausa.
Application Closing Date
Not Specified.