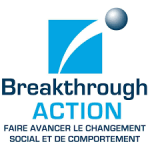 Breakthrough ACTION
Consultant Trainer – Health Care Workers at Breakthrough ACTION – 6 Job Vacancies. Please ensure you read the job requirements before applying for this position.
Breakthrough ACTION ignites collective action and encourages people to adopt healthier behavior – from using modern contraceptive methods and sleeping under bed nets to being tested for HIV and preventing the spread of zoonotic diseases – by forging, testing, and scaling up new and hybrid approaches to social and behavior change.
We are recruiting to fill the position below:
Job Title: Consultant Trainer – Health Care Workers
Locations: Abuja, Bauchi, Cross River, Ebonyi, Kano and Oyo
Period of Engagement: 3 months (May to July 2022)
Total Number of Days: 20 – 30 days
Supervision: Deputy Project Director, TB
Number Required: One personnel per state
Description
Working in collaboration with national stakeholders – Nigeria Centre for Disease Control (NCDC), National Agency for the Control of AIDS (NACA), National AIDS and STI Control Programme (NASCP), Network of People Living with HIV/AIDS in Nigeria (NEPWHAN), National Primary Health Care Development Agency (NPHCDA), and service delivery partners, Breakthrough ACTION Nigeria will be deploying a collaborative learning approach to build trust & empathy among facility-based health care workers that ultimately leads to increased uptake of COVID-19 vaccines and testing by the general population and PLHIV.
We are looking for qualified Short-Term Consultants to serve as trainers in Bauchi, Cross River, FCT, Ebonyi, Kano and Oyo states.
The trainers will support and facilitate the collaborative learning approach, which entails in-person training as well as virtual knowledge sharing and learning support in high-volume facilities of supported states through facilitated WhatsApp Groups.
Scope of Work
Participate in a 3-day National Training-of-Trainers (TOT)
Engage state and health sector leadership on the planned capacity building activities by Breakthrough ACTION Nigeria for health care workers at state and LGA levels
In partnership with the state and service delivery implementing partners, identify state trainers/coordinators for state training at secondary and primary level
Develop a state training plan in collaboration with the state stakeholders and consultant coach
Conduct a state level training-of-trainers with support from national facilitators
Coordinate and facilitate the step-down training at all high-volume facilities in the state
With stakeholders and facility leadership, identify champion health care workers (i.e., those who have already been vaccinated, completed the training, and are willing to speak to fellow health care workers about promoting COVID testing and vaccines) that will receive additional training
Collaborate with the consultant coach and BA-N team to identify focal persons to setup state-level WhatsApp Groups and continually nurture the group as learning  communities, fostering peer-to-peer exchange & support, promoting discussion related to specific cases encountered, and continuing learning by discussing and reflecting upon audiovisual learning materials and other job aids.
Submit training reports with all of the pre/post-tests analysis from trainings and a monthly status report update on all capacity building activities
Education, Experience & Certifications
A Degree in Medicine, Nursing, Public Health or related field
10 – 15 years of professional experience in training health care workers
Proven experience in implementing public health programs or projects in selected state with good knowledge of the Nigerian public health sector
Residence in the state of assignment is required
Knowledge of participatory learning approaches with proven experience in training and building capacity for community health organizations or structures
Must have an understanding of local language and context
Strong analytical, communication, computer and problem-solving skills
Excellent technical writing and oral presentation skills highly desired
A proven ability to work as part of a team and to be self-managing
Ability to travel if required.
Application Closing Date
20th April, 2022.
Method of Application
Interested and qualified candidates should send copies of their CV in PDF to: [email protected] using the Job Title and the their Preferred Location as the subject of the mail (e.g. Consultant Coach – Health Care Workers, Oyo State).
Note
Only shortlisted candidates will receive an invitation for an interview.
Candidates that do not comply with application instruction will be disqualified.