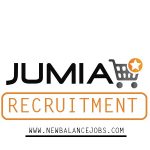 Jumia Nigeria
Consultant Management and Activation Manager at Jumia Nigeria. Please make sure you read the job requirements before applying for this position.
Jumia is a leading e-commerce platform in Africa. It is built around a marketplace, Jumia Logistics, and JumiaPay. The marketplace helps millions of consumers and sellers to connect and transact. Jumia Logistics enables the delivery of millions of packages through our network of local partners. JumiaPay facilitates the payments of online transactions for Jumia's ecosystem. With over 1 billion people and 500 million internet users in Africa, Jumia believes that e-commerce is making people's lives easier by helping them shop and pay for millions of products at the best prices wherever they live. E-commerce is also creating new opportunities for SMEs to grow, and job opportunities for a new generation to thrive.
With over 5,000 employees in more than 10 countries in Africa, Jumia is led by top talented leaders offering a great mix of local and international talents and is backed by very high-profile shareholders. Jumia is committed to creating a sustainable impact in Africa. Jumia offers unique opportunities in a vibrant and booming environment, creating new jobs, new skills, and empowering a new generation.
We are recruiting to fill the position below:
Job Title: Consultant Management and Activation Manager
Location: Lagos
Employment Type: Full Time
Department: Marketing – Sales – J-Force
Job Objective
You will play a key role within the JForce team (owner of Jumia offline Stores).
She/He will be responsible for the Day-to-Day general management of the JForce consultants and delivery of key strategic objectives for the activation team.
Secondly, She/He will work with the Head of JForce to develop the growth strategy for the B2C section of the JForce business.
Finally, you will be responsible for managing the activation team.
Overall, you will be responsible for delivering a world-class activation team that delivers the best customer experience (consultants/ agents).
Responsibilities
Design Daily call battles for the activation team
Support JForce consultant's recruitment drives across regions.
Track the activation team performance, and call battles impact.
Propose innovative process, marketing push and communication channels to improve delivery on B2C growth objectives
Capability building of the activation team.
Responsible for the general management of the B2C consultants.
Qualifications & Experience
Top Business / Engineering Schools and Universities Degree
An ideal candidate would possess significant (3-5 years) experience in Tele-Sales and/or offline retail industry and a proven track record of impact.
Experienced in managing a team of up to 10 to 20 members.
Track record of building offline networks or distribution channels.
Proficiency in MS Office and Excel.
As a whole, we expect someone passionate, creative and able to work efficiently.
We expect a leader.
We Offer
A unique experience in an entrepreneurial, yet structured environment.
The opportunity to become part of a highly professional and dynamic team working around the world.
An unparalleled personal and professional growth as our longer-term objective is to train the next generation of leaders for our future internet ventures.
Application Closing Date
Not Specified.