Full Time
Anywhere
This position has been filled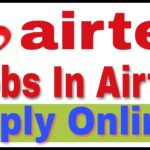 Airtel Nigeria
Airtel Africa is a leading provider of telecommunications and mobile money services, with a presence in 14 countries in Africa, primarily in East Africa and Central and West Africa. Airtel Africa offers an integrated suite of telecommunications solutions to its subscribers, including mobile voice and data services as well as mobile money services both nationally and internationally.
We are recruiting to fill the position below:
Job Title: Commercial Projects Manager: CX & S&D
Location: Nigeria

Purpose of the Job
This role within our IT directorate will be responsible for aligning business strategic plans with the enterprise architecture in order to provide advisory services and solutions for various projects.
Blend of business and technical proficiency is a must to ensure that programs and projects are delivered at the highest level and in line with business expectation.
Individual should be equipped enough to create blue prints of solutions, implementation road map, enterprise solutions planning and design, and deployment of best practice skillset (Platform, Technology and People) to attain any program or project successes.
Skills and Qualifications
Bachelors in Computer Science / Engineering/Applied Sciences
IT certifications / PMP (desirable)
Masters in Business Administration would be preferred additional qualification dependent on experience
8 years IT experience
8 years related experience in designing and implementing enterprise technology solutions.
6-8 years OSS/BSS experience
5 years project management experience to 10 yrs
Telecom experience of BSS, CCT, IN's, SMSC's, GPRS, CCN, 3G and Rating solutions
Should have worked in multi-vendor networks and have good knowledge of different standards.
Good understanding of Network / IP protocols
Understanding of IT systems and Applications like Billing, CRM, ERP, Sales Systems etc.
METHOD OF APPLICATION
Interested and qualified candidates should:
Click here to apply online
Job Title: RAN Project Manager (ZTE/Nokia RAN)
Location: Nigeria

Purpose of the Job
Plan, Direct and Deploy all RAN Projects and Programs to ensure High Speed of Time to Market.
This role must guarantee synergy, effective and efficient resource utilization, cost optimization and Return on investments to deliver on Business goals and +1 Network experience.
Skills and Qualifications
Any university degree in Engineering.
Professional qualification in Project Management Techniques
4-6 years' experience in the Telecom sector.
4-6 years in deployment of GSM and/or 3G.
Have hands on experience in a Network with ZTE/Nokia RAN.
Experience of managing multiple complex Network projects simultaneously
Evidence of successful project delivery with wide geographical spread
Some experience in site planning and Use of Map Info and planning tools
METHOD OF APPLICATION
Interested and qualified candidates should:
Click here to apply online