ATTENTION!!! FOLLOWS US ON GOOGLE NEWS and be the first to know about high paying job vacancies so you can apply IMMEDIATELY. Click here to JOIN GOOGLE NEWS.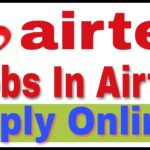 Airtel Nigeria (Airtel Networks Limited)
Among the top Airtel jobs for this week is this cool opportunity for Head of Media (Traditional & Digital). Kindly read job descriptions before applying.
Job Title: Head of Media (Traditional & Digital)
Company: Airtel Nigeria (Airtel Networks Limited)
Location: Lagos, Nigeria
Airtel Nigeria (Airtel Networks Limited), a leading mobile telecommunication services provider in Nigeria and a member of Airtel Africa Group, is committed to providing innovative, exciting, affordable and quality mobile services to Nigerians, giving them the freedom to communicate, rise above their daily challenges and drive economic and social development.
Job Description
The position is a key role within Nigeria that will be responsible for ensuring that set media objectives are achieved via in-depth understanding and application of scientific, creative media strategy development and implementation.
The Senior Media Manager should set the parameters for measuring media planning and buying based on the realities of the market and media environment.
Job Responsibilities
Other job expectations include:
Agency Management – Manage the agency and assess their input to media planning by ensuring that the following elements are comprehensively consider in media plans:

Market analysis – Airtel Brand Tracker
Media scene analysis using monthly/quarterly diaries
Review of innovative media ideas for efficiency and effectiveness
Competitive analysis – SOV/SOE

Media Strategy and Plan Implementation – The Senior Media Manager is required to provide expert support to Supply Chain Management on all media price negotiations aligned with company's objective of least cost but creative media planning and buying.
Review all media strategies, plans and schedules with detailed attention to: Budget allocation by zones/regions; Media selection rationales based on product/service objectives/target consumers; Set campaign objective assessment parameters based on GRPs, cost per thousand and SOV;  Provide detailed insight on the prevailing audience product/media consumption habit
Ensure that approved media schedules/outdoor site list are sent to independent media monitoring agency for compliance tracking. This should be done through Airtel appointed media planning and buying agency
Outdoor Media Management –  One of the rigorous aspects of media function is the outdoor management. The Senior Media Manager is required to carry out the following functions;
Rental/Space Management
Work with the agency/regional offices to agree on billboards distribution matrix based on agreed market factors such as customer base, competition, ARPU and overall revenue by region
Conduct physical site inspection with the agency/regional office marketing team to ensure that billboards are strategically distributed and located across selected markets pan Nigeria
Initiate negotiation of rates with outdoor owners driven by Supply Chain Management for media rates leadership.
Follow-up on purchase order approvals
Periodically assess the performance of the printers. Based on the outcome of the assessment, determine quantity of jobs to be allocated to each printer in subsequently quarters.
Ensure that materials are printed and ready for posting ahead of campaigns break and dispatched to the billboard owners.
Advice Agency to follow-up on the posting of materials on the selected billboards across all regions.
Media Compliance Review and Control for Payment – Review Agency invoices and third party documents accompanied with compliance reports for payment with attention to the following parameters: Plan spots vs carried spots as reported by independent media monitoring watchdog reports; Carried spots vs value invoiced by third party; Adjustments of invoices to match media monitoring reports; Confirmation of third invoices accuracy and attachment to final invoice from Agency to Airtel; Follow-up with Payables for invoices sign-off by Head of Brand & Communication and Chief Marketing Officer.
Customers Management – Internal Customers:
He/She is required to work with the following internal and external customers: Internal Customers, Finance (Follow-up on payment to media agency, etc), Supply Chain Management (for purchase orders issuance, Media negotiations), Legal (Service agreements preparation), Regional Offices (Campaign breaks and control, Resolution of challenges, Rectification of problems associated with campaign executions)
Development of creatives and delivery to media planning and buying agency & Marketing Departments
Response to product briefs as articulated in the communication brief
External Customer:
Media Planning and Buying Agency (for media plans and strategy, media research data analysis, media negotiations, Campaigns control and reconciliation)
Media Monitoring Agency (Monitoring reports analysis, SOE/SOV reports, Media Partners, Campaigns exposure, Self-monitoring for compliance, Billboards posting , Invoicing for payment, Reconciliation for compliance
Essential Requirements
10- 15 years media planning and buying experience from Media Independents Practitioners Association of Nigeria (MIPAN) agency and involved in managing a multinational account.
Bachelor of Science, MSc would be preferred additional qualification dependent on experience.