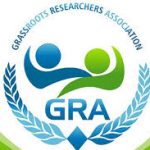 Grassroot Researchers Association (GRA)
State Project Coordinator at Grassroot Researchers Association (GRA). Please ensure you read the job requirements before applying for this position.
Grassroots Researchers Association (GRA) is a nonprofit and non-political rights-based organization registered in 2016 with the Corporate Affairs Commission of Nigeria as a local content hub aimed at facilitating evidence-based grassroots initiatives and actions that promote development, justice and victims support in the communities. Our mission is to be an active grassroots mobilizer towards improving the total quality of human life and social justice in Nigeria. Our programmes are spread across Climate Change, Conflict, Security and Justice, Social Economic Development and Governance.
We are recruiting to fill the position below:
Job Title: State Project Coordinator
Reference Number: GRA – RPC/YLA/02/22/065
Location: Yola, Adamawa
Employment Type: Full-time
Project Duration: 7 Months
Job Summary
The State Project Coordinator will be responsible for providing technical support for community based GBV prevention and response programming in their designated States including Borno, Adamawa and Yobe, ensuring the achievement of the GBV programme goals.
The incumbent will support in ensuring that all GBV activities are implemented in a timely, efficient, and effective manner and according to the agreed GRA and donor guidelines.
He/she will support to ensure that all monitoring, evaluation, and reporting happen timely and all resources – including finances – are managed well. The incumbent will report directly to the GBV Program Manager.
Key Responsibilities
Project Management and Development:
Provide leadership for implementation of community based GBV prevention activities to engage partners and beneficiaries including women, girls, men and boys in GBV prevention, response and risk mitigationin the designated State/assigned field location;
Coordinate and provide technical support to project staff and community-based volunteers for quality GBV activity implementation in the designated State;
Provide technical support in planning, implementing and monitoring of GBV program activities (including case management, psychosocial support, and advocacy);
Work with (I)NGOs and other stakeholders to ensure holistic support for survivors, including participating in developing and strengthening GBV SOPs and referral pathways;
Support to provide strategic direction and undertake analysis of GBV trends, gaps in services, and GRA's capacities to better address needs in the assigned field locations;
Initiate and lead advocacy and community actions aimed at demanding accountability to SGBV and VAWG in their designated State/assigned field location;
Participate and contribute to the GBV working group and protection working group in the designated State.
Contribute to program design and support the preparation of concept notes and proposals;
Support in strengthening capacity of partners, institutions and beneficiaries to effectively take action against harmful gender norms in their communities.
Project Monitoring and Evaluation, Documentation and Reporting:
Facilitate effective monitoring, documentation and reporting of GBV activities in compliance with agreed standards;
In liaison with the MEL & Communications Officer, ensure a functional project M&E system that represents the implementing state;
Develop high quality and timely technical reports for all project activities including monthly, quarterly and annual reports in their designated State/assigned field location.
Effectively document all information related to project success, innovations and promising practices and disseminate through appropriate mechanisms;
Performance Management and Supervision:
Manage, supervise and build capacity of staff to implement, monitor and report on the project activities as required including ensuring that work within the team is planned and organized to meet the projects needs in the most cost effective manner;
Conduct quarterly and annual staff performance appraisals;
Monitor and document performance of partners;
Ensure staff are fully engaged and actively contributing to various initiatives;
Ensure that all staff are aware of and comply with all GRA and donor policies and procedures.
Finance / Budget and Asset Management:
Ensure project finances and assets are used in line with GRA and donor policies;
Ensure project budget expenditure is within the planned time frame and approved budgets;
Work with the project accountant(s) to ensure timely financial reporting and accountability in line with donor policy guidelines;
Provide required support during project audit;
Monitor and address or report any risks to management.
Local Level Networking and Collaboration:
Build and maintain effective strategic linkages, relations, collaborations and networks with partners and other local stakeholders for effective implementation of the project;
Participate in all sector meetings, stakeholders meetings, as well as support in deepening relationships with relevant stakeholders including MDAs, (I)NGOs, CSOs and CBOs at the state, local government and community level;
Engage and work closely with the state, local government and community level networks/ institutions/organizations relevant to supporting victims of GBV and initiatives to end VAWG and SGBV in the assigned state;
Ensure project advocacy initiatives are implemented in line with GRA's advocacy agenda;
Organize and hold regular reflection and/or learning meetings with project stakeholders as planned.
Minimum Qualifications
A Bachelor's Degree (minimum), or a Master's Degree (desirable), in Psychology, Social Sciences, Development Studies, Gender and / or Women's Studies or any other related field.
At least 5 years previous work experience with 3 years' experience relevant to the function.
Excellent command of written and spoken English. Understanding of the local language is desirable.
Understanding of GBV and gender relations in the North Eastern setting.
Excellent writing skills including experience in drafting reports and presentations.
Competencies:
Strong Leadership and inter personal skills.
Demonstrated organizational skills.
Demonstrated proficiency in program project management based on GBV programming and gender analysis.
Knowledge of communication strategies and techniques.
Must be able to work independently while being a strong team player.
Desirable Qualifications:
Project implementation, monitoring and evaluation experience.
A valid International Passport.
Knowledge of participatory approaches.
Strong computer skills: must be competent in the use of Windows, MS office programs (Word, Excel), and email programs.
Application Closing Date
18th April, 2022.
Method of Application
Interested and qualified candidates should:
Click here to apply online
Note
Applicants should submit their Applications addressed to "The Executive Director, Grassroots Researchers Association (GRA)" via the link above.
All applications MUST indicate the Position Title and Reference Number as the subject line. Any applicant that did not quote the reference number correctly would be disqualified.
All applications must include 1-page Cover Letter and CV (4 pages maximum).
Applications must be sent as a single PDF or MS Word attachment not later than18thApril, 2022 by 12:00pm (WAT).
Due to the large number of applications received, only applicants short-listed for interview will be contacted.
General Information:
GRA encourages applications from qualified and experienced women.
GRA is an accountability-driven organization whose staff are expected to uphold the highest standards of integrity, neutrality and impartiality. This includes respect for human rights, for diversity/gender, and for non-violent means of dealing with all kinds of conflict. Only persons who fully and unconditionally commit to these values should consider applying for GRA jobs.
GRA does not charge fees at any stage of the recruitment process (application, testing, interviewing, etc.). GRA does not concern itself with information related to bank accounts.
To apply for this job please visit forms.gle.