ATTENTION!!! FOLLOWS US ON GOOGLE NEWS and be the first to know about high paying job vacancies so you can apply IMMEDIATELY. Click here to JOIN GOOGLE NEWS.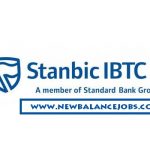 Stanbic IBTC Bank recruits Private Client Service Officer – SIPML
Stanbic IBTC Bank is a leading African banking group focused on emerging markets globally. It has been a mainstay of South Africa's financial system for 150 years, and now spans 16 countries across the African continent.
Standard Bank is a firm believer in technical innovation, to help us guarantee exceptional client service and leading edge financial solutions. Our growing global success reflects our commitment to the latest solutions, the best people, and a uniquely flexible and vibrant working culture. To help us drive our success into the future, we are looking for resourceful individuals to join our dedicated team at our offices.
Job Title: Private Client Service Officer – SIPML
Job Purpose
The role is to ensure that Private Clients in the region enjoy services that would guarantee their loyalty, as High Net worth and VIPs of the unit, by providing and delivering service excellence to these clients.
Work closely with regional Coordinator who will be responsible for ensuring that all regulatory visitors to the region are well attended to and acting as the company's representative where a single individual is required to act on behalf of the region as a whole.
Work closely with the RSMs, RCSMs, Compliance and Admin Officers within the region
Key Responsibilities / Accountabilities
Driving and Coordinating 100% excellent service delivery amongst PCS clients in the region.
Implementation of Information Technology based initiatives to increase turnaround time and satisfaction amongst PCS clients.
Oversees the daily running of the unit across the South South region
Ensures that all Service Level Agreements are strictly adhered to in all business locations
Collation of all information on these clients. E.g. DOB of all nuclear family members, wedding anniversary, preferred sports, club affiliations (Liverpool), hometown, religion and all other information that are considered relevant
Organization of  special events for PCS clients in the region
Weekly check of RSA and RSA Retiree Fund to identify clients as they fall within the HNI/VIP metrics
Ensure implementation of loyalty initiatives and distribution year end gifts to all PCS clients within the region
Assist HNI Clients to resolve e-channels related issues and encourage them to adopt e-channels
Providing guidance and support to team members in achieving set goals.
Align to  applicable  SLAs developed  for PCS clients
Ensures direct calls and visits by a member of SIPML Exco annually.
Visit to new and existing PCS clients within the region
Place calls to PCS clients and key contacts in the region at least once within the quarter.
Ensures priority treatment on processing of Benefit applications and payment
Relationships:
Group: BU heads in Stanbic IBTC and GIA
Influence their service delivery; Impact the whole Group
Description or examples: Approval and contribution to Policies
Preferred Qualifications and Experience
Minimum of a 2.2 BSc. degree from an accredited University
Wealth Management  – Up to 5 years post NYSC experience;
Expertise in customer experience management
Minimum of 2 years relevant experience in Banking preferably in relationship/transactional banking.
Knowledge / Technical Skills / Expertise:
Excellent knowledge of the dynamics and technical aspects of fund management and financial markets
Understanding of policies and procedures; customer services in a first class oriented institution is desirable
Thorough understanding of the Pensions Reforms Acts.
Training on providing Excellent Customer Service and Financial Management. Experience in working among a Solution-Oriented team
Experience in Customer Care duties and responding to Client Enquiries.
Good analytical /numerical / communication skills
Excellent use and knowledge of NAV, MS Office applications, and other customer related tools.
METHOD OF APPLICATION