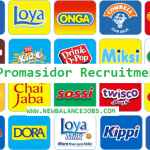 Promasidor
Sales Territory Coordinator vacancy at Promasidor
Job title: Sales Territory Coordinator
Company: Promasidor
Location: North East (Warehouse or Depot)
Reporting to: Regional Sales Manager (North East)
Promasidor – We are an African company proud of our heritage and totally committed to the continent. We manufacture, market and sell unique brands which bring practicality and pleasure to millions of consumers across Africa.
Objectives
Manages a Sales Team and provides leadership towards the achievement of Targets and Growth
Responsibilities
Development of Business strategy that ensures attainment of company sales goals and objectives: Value/Volume/Ranges.
Dealership Management for growth and Profitability.
Responsible for the Performance and Development of Sales Executives
Initiates and coordinates development of action plans to penetrate new markets: Channels Development.
Prepares action plans for sales leads and prospects
Controls expenses to meet Budget guidelines
Carries out any assigned food safety jobs by the head of department
Carries out any other duty assigned by supervisor
Requirements
Education:
Experience:
Minimum of 5 but less than 7 years
Knowledge:
Strong understanding of customer and Market dynamics.
Extensive experience in all aspect of FMCG DISTRIBUTION CHAIN.
Self-motivated to work independently, with team support to close the business always.
Skills & Personal Attributes:
Proven leadership and ability to drive sales teams. Numeric and target oriented.
METHOD OF APPLICATION
Interested and qualified? Go to Promasidor career website on careers.promasidor-ng.com to apply
Note
When the page open Click "Key Account Coordinator" and apply
Carefully check the description of this job BEFORE applying for it. Our selection process ensures that we do not recruit anyone who does not meet our requirements.
So, take some time and examine carefully the job description below. Do not apply if you feel your actual profile does not correspond to our requirements. We regularly have new job openings, if this isn't a job for you, you could come back at a later date to see if there are suitable jobs available