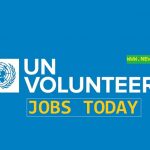 United Nations Volunteers
Project Support Officer at United Nations Volunteers. Please ensure you read the job requirements before applying for this position.
The United Nations Volunteers (UNV) programme contributes to peace and development through volunteerism worldwide. We work with partners to integrate qualified, highly motivated and well supported UN Volunteers into development programming and promote the value and global recognition of volunteerism. UNV is administered by the United Nations Development Programme (UNDP) and reports to the UNDP/UNFPA/UNOPS Executive Board.
We are recruiting to fill the position of:
Job Title: Project Support Officer
Location: Yola, Adamawa
Type: Onsite
Host Entity: UNFPA
Duration: 9 months
Number of Assignment: 1
Sustainable Development Goal: 5. Gender equality
Expected Start Date: 03/05/2022
Volunteer Category: National UN Volunteer Specialist
Mission and Objectives
Established in 1973, the United Nations Population Fund (UNFPA) in Nigeria is located in the Federal Capital territory of Abuja, with four sub-offices, to respond to population issues throughout the six geo-political zones of the country: The North-West, North- East, North-Central, South-West, South-East and South-South. Currently in its 8th Country Programme (2018-2022), UNFPA Nigeria operations prioritize the humanitarian-peace-development nexus approach, particularly in addressing the subsisting crisis in the Northeast region of the country.
In addition to the humanitarian support provided to the three worst affected states of Yobe, Borno and Adamawa in the Northeast, UNFPA Nigeria supports implementation of the country's development plans in 15 focal states: Abia, Akwa Ibom, Benue, Cross Rivers, Ebonyi, Gombe, Imo, Kaduna, Lagos, Ogun, Ondo, Sokoto, Kebbi, Bauchi, and Oyo as well as at the Federal level. However, it is pertinent to note that the Reproductive Health Commodities supply programme of UNFPA covers all the 36 States as well as the Federal Capital Territory (FCT).
Consistent with the three organization-wide objectives to end preventable maternal mortality, end unmet need for family planning and end gender-based violence and harmful practices, UNFPA Nigeria also partners with non-government organizations including faith based, women and youth organizations, other UN agencies and major donors to meet the needs of the most vulnerable groups in the country including women, adolescents, and youths, as well as internally displaced persons (IDPs).
The organizational goals call on holistic programming centered on building the capacity of national health systems and social structures in order to administer quality services around sexual reproductive health (SRH), family planning and Gender Based Violence (GBV) prevention, mitigation and response.
Context
UNFPA is the lead UN agency for delivering a world where every pregnancy is wanted, every childbirth is safe and every young person's potential is fulfilled. UNFPA's new strategic plan focuses on three transformative results: to end preventable maternal deaths; end unmet need for family planning; and end gender-based violence and harmful practices.
In a world where fundamental human rights are at risk, we need principled and ethical staff, who embody these international norms and standards, and who will defend them courageously and with full conviction.
The Spotlight Initiative is a global partnership between the United Nations (UN) and the European Union (EU), launched in 2017, as part of the global response to eliminate all forms of violence against women and girls in support of the 2030 Agenda on Sustainable Development. Nigeria is one of eight African countries selected to implement the Spotlight Initiative, which focuses strongly on preventing early marriage and female genital mutilation.
The Spotlight Initiative is implemented in 5 states + Federal Capital Territory (FCT) in Nigeria by five principal agencies (UNFPA, UNDP, UN Women, UNICEF and UNESCO) under the coordination of the Resident Coordinator's Office. UNFPA, as one of the core agencies implementing the Spotlight Initiative in Nigeria, will establish a dynamic and energetic team to support implementation of the Initiative.
A Spotlight Initiative project officer will be recruited as part of the Spotlight Initiative team, and report to the respective UNFPA Head of Sub-Office, while working with the Spotlight Initiative Technical Coherence Specialist, and the UNFPA team to delivering on UNFPA's interventions under the entire Spotlight Initiative Project.
UNFPA is seeking a candidate that can transform, inspire and deliver high impact and sustained results; we need staff who is transparent, exceptional in how they manage the resources entrusted to them and who commit to deliver excellence in programme results.
Task Description
Within the delegated authority and under the supervision of the Humanitarian Coordinator/ Head of Maiduguri Sub Office, the UNV Project Support Officer will work closely with the Project Manager to support all team members in ensuring that results of the Spotlight Initiative are well articulated; results are tracked and documented; and both the internal and external reports capture the actual changes that are happening with the project interventions.
Also s/he will:
Assist in the day to day planning and management of programmes and activities under the spotlight initiative.
Assist in the development, coordination, implementation and monitoring and reporting of activities under the Spotlight initiatives.
Support to strengthen partnership, co-operation, consultation and/or coordination with local, national and CSOs, especially, government institutions, women's organizations, bilateral institutions, UN agencies for more effective and coordinated programme development and implementation as appropriate;
Assist to maintain donor reporting and accountability schedules ensuring quality production of donor and other reports;
Support in the implementation of an evidence-based communications and advocacy, and partnership-building, strategy for the Spotlight Initiative.
Contribute to the development of an innovative social media strategy for the Spotlight Initiative.
Support the development of knowledge management, news stories and briefs for the website and newsletters, and the production of advocacy and communication materials. Take photographs and videos for both traditional and web-based media.
Support the establishment and maintenance of a resource library, the development of knowledge tools and products to inform the programmatic roll-out of the Spotlight Initiative. Support the Spotlight team to prepare and organize workshops, trainings and meetings with partners and key stakeholders.
Assist in the documentation and reporting on programme activities, writing meeting minutes, briefing notes, talking points, mission and training reports.
Assist to coordinate and support high quality research to generate knowledge in the relevant thematic areas.
Any other related tasks as may be required or assigned by the supervisor.
Requirements
Required Education Level:
Bachelor's Degree or equivalent in Public Administration, Development Studies, Social Sciences, International Relations, Programme Management.
Required Experience:
3 years of experience in Programme/project management.
Working with CSOs, CBOs and other implementing partners.
GBV, ASRH and youth programming.
Partnership building and stakeholders' engagement.
Gender programming and women empowerment.
Advocacy
Area(s) of Expertise:
Development programmes, Community development.
Languages:
English, Level: Fluent, Required Hausa, Level: Working knowledge, Desirable
Competencies and Values:
Professionalism: demonstrated understanding of operations relevant to [UNFPA]; technical capabilities or knowledge relevant or transferrable to [UNFPA] procedures and rules; discretion, political sensitivity, diplomacy and tact to deal with clients; ability to apply good judgement; ability to liaise and coordinate with a range of different actors, especially in senior positions; where appropriate, high degree of autonomy, personal initiative and ability to take ownership; resourcefulness and willingness to accept wide responsibilities and ability to work independently under established procedures; ability to manage information objectively, accurately and confidentially; responsive and client-oriented;
Communication: proven interpersonal skills; good spoken and written communication skills, including ability to prepare clear and concise reports; ability to conduct presentations, articulate options and positions concisely; ability to make and defend recommendations; ability to communicate and empathize with staff (including national staff), military personnel, volunteers, counterparts and local interlocutors coming from very diverse backgrounds; capacity to transfer information and knowledge to a wide range of different target groups;
Flexibility: adaptability and ability to live and work in potentially hazardous and remote conditions, involving physical hardship and little comfort; to operate independently in austere environments for protracted periods; willingness to travel within the area of operations and to transfer to other duty stations within the area of operations as necessary;
Integrity: demonstrate the values and ethical standards of the UN and [UNFPA] in daily activities and behaviours while acting without consideration of personal gains; resist undue political pressure in decision-making; stand by decisions that are in the organization's interest even if they are unpopular; take prompt action in cases of unprofessional or unethical behaviour; does not abuse power or authority;
Teamwork and respect for diversity: ability to operate effectively across organizational boundaries; excellent interpersonal skills; ability to establish and maintain effective partnerships and harmonious working relations in a multi-cultural, multi-ethnic, mixed-gender environment with sensitivity and respect for diversity; sensitivity and adaptability to culture, gender, religion, nationality and age; commitment to implementing the goal of gender equality by ensuring the equal participation and full involvement of women and men in all aspects of UN operations; ability to achieve common goals and provide guidance or training to colleagues;
Commitment to continuous learning: initiative and willingness to learn new skills and stay abreast of new developments in area of expertise; ability to adapt to changes in work environment.
Planning and organizing: effective organizational and problem-solving skills and ability to manage a large volume of work in an efficient and timely manner; ability to establish priorities and to plan, coordinate and monitor (own) work; ability to work under pressure, with conflicting deadlines, and to handle multiple concurrent projects/activities;
Genuine commitment towards the principles of voluntary engagement, which includes solidarity, compassion, reciprocity and self-reliance; and commitment towards [UNFPA]'s mission and vision, as well as to the UN Core Values.
Eligibility Criteria:
Age:
Nationality:
Candidate must be a national or legal resident of the country of assignment.
Living Conditions and Remarks
Adamawa: is located in north eastern Nigeria, with its capital in Yola. Being a state capital, it is a major transport hub with buses and taxis. The nearby town of Jimeta houses an airport with direct flights to Saudi Arabia and other parts of the country and the world. Topographically, it is a mountainous land crossed by the large river valleys – Benue, Gongola and Yedsarem.
Over the course of the year, the temperature typically varies from 16°C to 38°C and is rarely below 13° or above 42°C. The major occupation of the people is farming as reflected in their two notable vegetational zones, the Sub-Sudan and Northern Guinea Savannah zones. Adamawa State has been impacted by the Islamist insurgency in Nigeria.
The state has become home to camps housing an estimated of over 35,000 internally displaced persons fleeing violence from Boko Haram in various locations.
This security situation is being managed steadily by the Federal Government through the Nigerian Army, Police and other joint security agencies.
Method of Application 
Interested and qualified candidates should:
Click here to apply
Application Deadline 3rd May, 2022.
Note
United Nations Volunteers is an equal opportunity programme that welcomes applications from qualified professionals.
We are committed to achieving diversity in terms of gender, care protected characteristics.
As part of their adherence to the values of UNV, all UN Volunteers commit themselves to combat any form of discrimination, and to promoting respect for human rights and individual dignity, without distinction of a person's race, sex, gender identity, religion, nationality, ethnic origin, sexual orientation, disability, pregnancy, age, language, social origin or other status.
Selected candidates for certain occupational groups may be subject to inoculation (vaccination) requirements, including against SARS-CoV-2 (Covid-19) in line with the applicable host entity policy.