ATTENTION!!! FOLLOWS US ON GOOGLE NEWS and be the first to know about high paying job vacancies so you can apply IMMEDIATELY. Click here to JOIN GOOGLE NEWS.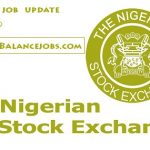 Product Specialist, ETPs Vacancy at Nigerian Stock Exchange
Recruitment is going on at Nigerian Stock Exchange for the position of Product Specialist, ETPs. Please read the requirement before applying.
The Nigerian Stock Exchange, services the largest economy in Africa, and is championing the development of Africa's financial markets. The Exchange offers listing and trading services, licensing services, market data solutions, ancillary technology services, and more. It is an open, professional and vibrant exchange, connecting Nigeria, Africa and the world.
Job title: Product Specialist, ETPs
Location: Lagos
Division: Trading Business Division
Department: Secondary Market Department
Report to: Head – Secondary Markets Department
Grade: Assistant Manager – Deputy Manager
Estimated Date of Resumption: Monday, March 23, 2020
Job Summary
The Product Specialist, ETP will support the review /creation of ETP frameworks for scope of work, proposals, and research and business cases.
S / he will support all functions pertaining to the ETP product line with the overall goal of ensuring that ETPs are appropriately priced, positioned, promoted, and supported in a way that will increase order flow as measured by number of transactions, trading volume and value in line with the overall goals of the product management department and will have responsibility for margins made on ETP Product line.
The Product Specialist will assist as the "Product Advocate" by proactively disseminating related information while communicating the product message.
S / he is expected to stay abreast of the competitive landscape and industry trends (utilizing internal and external data / information resources) to support the creation of a competitive platform that enables stakeholders realize their investment objectives.
The Product Specialist will support the drive of ETP product line and ensure the success of these programmes by developing and maintaining relationships with ETP market participants and relevant external and internal stakeholders.
S / he will assist to obtain and maintain knowledge of ETP client business, set up and attend stakeholder visits and conduct stakeholder presentations.
The position is situated Nigeria with a global focus to cover both local and international buy and sell side participants.
Key Responsibilities
Support the Product Manager to liaise with fund experts to consistently develop and manage an array of offerings under ETP product line to meet the needs of the investing community and assimilate market feedback into new product development and positioning of existing ETPs
Assist to define the Exchange's growth strategy and execution plan for the ETPs product line to drive product sales & profitability
Perform research and support data analysis, such as trend and behaviour analysis related to the financial services industry and ETPs product development in general Using the outcome of analysis and research, underpin recommendations for creating, developing, maintaining and enhancing NSE ETP Market product
Support the design and implementation of new ETP Product initiatives: Draft relevant documentation, perform analysis, research and carry-out appropriate planning with cross-market collaboration in mind, when relevant
Support the coordination of activities of ETP liquidity providers to appropriate their functions in promoting liquidity and market efficiency
Support the enhancement of the market micro-structure (in areas such as transaction fees, ETP licensing fees) to increase product profitability
Assist to advocate transparency of ETPs listed on The Exchange by ensuring they observe documentation requirements in terms of structure, exposures and fair value at all times
Support the Product Manager to liaise with ETP providers covering the Nigerian market or NSE ETP committee to ensure the providers meet a strong market demand for new and innovative ETPs to support ETPs across the asset class
Support the drive for performance ie turnover & margins of ETP trading on The Exchange
Work with the Product Manager to liaise with the Market Operations and Technology Division to ensure system compatibility with market structure enhancements in support of the ETP product line and other business partners as necessary
Support the creation, review and amendment of ETP trading rules as necessary, to promote fair and orderly trading in ETPs
Manage key relationships with other stakeholders, Broker-Dealers, Market Makers, Institutional Investors (PFAs, CPFAs, Insurance companies, managed funds, portfolio managers, etc) and other trading participants locally and internationally
Assist in the development and maintenance of a broad knowledge and awareness of trading industry developments, competitors, regulators, rules that impact ETP trading
Assist to proactively disseminate investment and product resources to other areas of the organization in order to educate and train Internal/External stakeholders on Product attributes and new initiatives. Assist to coordinate and operate investor education in partnership with other stakeholders. Work with Product Managers in developing business plans to achieve company revenue goals
Analyse competitive marketplace and industry trends to accordingly develop business strategies for revenue generation
Obtain customer / client feedback and suggest appropriate product revisions
Recommend product enhancements and updates to identify new business opportunities
Work with business team to identify new customers and to retain existing customers
Maintain complete documentations for all product related activities
Research / Policy Development and Standard Operating Procedures:
Periodically updating ETPS Market policy, guidelines and Standard Operating Procedure (SOP)
Conduct regular research and liaising with professionals across various industries to ensure best practices for ETPS Market are practiced in the organisation.
Other Responsibilities:
Understand drivers of ETPs order flow to the Exchange
Support the Product Manager to coordinate and partner with the other product development team members in conjunction with other stakeholders, to design and price products, identify and address key issues that must be resolved before a successful product launch occurs
Serve as gatekeeper, ambassador and product line expert to internal/external parties
Research new product ideas in conjunction with institutional/wholesale distribution and marketing firms to determine success potentials and uniqueness within the industry
Monitor / interpret product pricing trends and recommend appropriate strategies
Understand product profitability goals and provide inputs to appropriate financial areas
Assist in driving the development process once a new product has been approved by all functional areas. Support the Listing Sales and Retention team in marketing on an on-going and proactive basis with respect to product positioning and communication strategies
Continuously monitor industry trends and the competitive environment; recommend initiatives to strengthen market position
Assist in the preparation of presentations for ExCo and other key stakeholders. P & L responsibilities for ETP products.
Qualifications and Experience
A first degree in quantitative or business related areas. A post graduate degree (MSc or MBA) or professional certification and licenses (eg CIS, CFA, will be an added advantage.
Minimum 6 years of experience in financial services industry or in an investment product management/marketing role, distribution-related role.
Functional Competencies:
Microsoft Office Packages
Strategic Planning & Analytical
Excellent Communication Skills, both Written and Verbal
Ability to work under presure with strict deadlines
Good working knowledge on institutional and wholesale distribution channels
Solide knowledge of electronic trading, algorithmic trading or high frequency trading.
Behavioural Competencies:
Time Management
Relevant experience in trading, sale-trading, sales.
METHOD OF APPLICATION
Interested applicant are advise to first go through the requirement before apply here