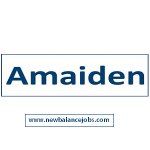 Amaiden Energy Nigeria Limited
Amaiden Energy Nigeria Limited, (formerly Moody International Nigeria Limited) was established in 1996 as a partnership between Moody International Group and Nigerian investors. Since commencing operations in March 1997 the company continues to grow and exerts its presence in numerous Projects in the Nigeria Oil and Gas Industry.
Marine Lead Recruitment at Amaiden Energy Nigeria Limited. Please check below for job details;
Job Title: Marine Lead
Location: Nigeria
Category: Marine
Job Type: Contracts
Job Nature: Rotation
Job Description
Advise Ship Masters on Terminal's mooring preparations and procedures
Direct Tugs and supporting boats in mooring operations
Ensure company Terminal regulations are adhered to.
Supervise all loading operations
Ensure Safety and Environmental regulations are strictly complied with
Support maintenance of SPM Buoys and related mooring equipment
Maintain a record of marine hoses including throughput of hoses in use
You may also like this; Unilever Recruitment, jobs and Vacancies in 2020
Key Responsibilities
Advice tanker Masters on the best approach to terminal loading berths.
Direct supporting tugs and boats in a safe and efficient manner.
Berthing / unberthing of tankers.
Ensure deballasting (clean ballast) is properly carried out and tanks certified to receive cargo.
Monitoring Pollution Prevention on the Export Tankers.
Maintain communication with shore on proper loading rate and pressure monitoring of the overall loading system.
Supervision of loading and certification of quantity loaded onboard in co-operation with ship's officers and independent surveyors.
Assess overall vessel condition when onboard to determine suitability for future acceptance at the terminal.
Member of oil spill response team.
Maintain Record of Export Operations. Monitor production level and export tankers' nominations/arrival.
Support SPM & associated Equipment Maintenance and Record-Keeping.
Calculation and Verification of Demurrage claims.
Vessel Screening for acceptability at the terminal.
May support other Marine functions as required
Job Requirements
STCW II/2 Master Mariner (unlimited Certificate of Competency
5 years relevant post-qualification sea experience onboard tankers in a senior rank (Chief Mate of higher).
Experienced ship handlers.
Thorough knowledge of offshore marine operations.
Strong leadership, influencing, and interpersonal skills
Ability to work long hours.
Good seamanship ability
Application Deadline
5th October 2020.