ATTENTION!!! FOLLOWS US ON GOOGLE NEWS and be the first to know about high paying job vacancies so you can apply IMMEDIATELY. Click here to JOIN GOOGLE NEWS.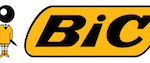 BIC Nigeria is recruiting for the position of Manager, Finance.

About the Company
BIC® products are known and appreciated all over the world for their quality, their affordability and ease of use. The ballpoint pen, the pocket lighter, the one-piece shaver are all part of the daily lives of millions of consumers. These products make BIC® one of the best known international brands, present in 3.2 million retail outlets, in more than 160 countries. As we explore the tremendous opportunities ahead, we have a need for dedicated and dynamic employees to help build our team.
Job Title: Manager, Finance
Company: BIC Nigeria
Location: Lagos
Job Description
Responsible for the efforts, results, and success of an organisation's finance department. Provides financial advice and support to help senior executives make key decisions.
Main Responsibilities / Tasks
Heading up the Finance Department of the Nigerian Subsidiary.
Working with the General Manager in running the business unit from a regulatory and an operational (Sales and Marketing, Finance, IT, Procurement) point of view.
Oversee, review, and adhere to the budgets for each business department.
Assist in company-wide budgetary planning.
Ensure that all of the company's financial practices are in line in statutory regulations and legislation.
Analyse the financial climate and market trends to assist senior executives in creating strategic plans for the future.
Interpret complex financial information and provide updates and information as needed.
Monitor cash flow, accounts, and other financial transactions.
Supervise financial assistants and other employees in the facilitation of day-to-day operations, including tracking financial data, invoicing, payroll, etc.
Prepare official reports on a monthly and annual basis.
Seek out methods and practices to minimize financial risk.
Contract auditing services to ensure financial monitoring is up-to-date.
Create and maintain relationships with service providers and contractors, including banking institutions and accountants.
Update and implement financial policies and procedures.
Maintain a policy manual for the finance department.
Work with human resources employees to secure candidates who will be an asset to the finance department.
Establish and implement a training program for new finance employees.
Qualifications and Experience
Advanced degree in Accounting, Business, Finance, or a related field.
5 – 8 years of experience in finance.
Excellent mathematical skills, leadership skills.
Management experience, integrity, honesty, understanding of data privacy standards.
Exceptional communication skills, both written and verbal.
Remuneration & Benefit
BIC offers a competitive salary, health insurance and 401(k). Successful candidates are required to pass a drug test and undergo a security check.
Method of Application
Interested and qualified candidates should:
Click here to apply online
Note: BIC Corporation is an Equal Opportunity / Affirmative Action employer. All qualified applicants will receive consideration for employment without regard to race, color, religion, sex, national origin, disability, or protected Veteran status.