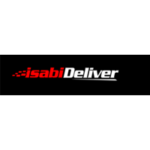 iSabiDelivery
iSabiDelivery is hiring to fill the position of Hub Manager in Abuja. Please ensure you read the job requirements before applying for this position.
iSabiDelivery – We all have something that needs pickup or delivery and we most times get busy to run our Errands. iSabiDelivery offers a range of logistic service; door – door delivery, pickup & delivery, errand service, mail delivery and moving & packing service. We make getting items from one point to another easy.
We are recruiting to fill the position below:
Job Title: Hub Manager
Location: Lokogoma, Abuja
Working Conditions: 40hrs/week
Domain/Industry: Logistics
Job Description
isabiDeliver is looking for a highly organized and charismatic individual for the role of Hub Operations Manager, overseeing all aspects of the hub operations.
On top of the duties, you would expect of a hub manager, a proactive interest in sales and marketing is essential and a vocal enthusiasm in this part of all it has to offer to businesses, subscribers, and clients.
Responsibilities
To manage, oversee and direct all aspects of the Hub's operation including subscription, inventory, sales, marketing, and support.
Collaborate across teams and functions to allocate resources and better the product
Manage hub space allocation and order fulfillment
Log incoming and outgoing items from the Hub according to the company standard of operation
To maintain (joint) company standards and expectations.
Establish meaningful relationships with external stakeholders.
Requirements
1+ years in a supply chain/inventory role.
Experience in the supply chain/logistics industry.
Outstanding organizational skills.
Analytical mindset and good problem-solving skills.
Quantitative ability.
Attention to detail.
Exceptional interpersonal skills.
Excellent written and verbal communication.
Great computer skills (Word, Excel, etc).
Knowledge of Health and Safety.
Good attention to detail with an ability to see the bigger picture.
Salary
N480,000 – N900,000 (Annual).
Application Closing Date
30th September, 2021.
Method of Application
Interested and qualified candidates should forward their CV to: [email protected] using the position as subject of email.