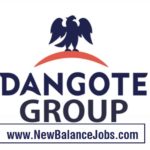 Dangote Group
Financial Reporting Officer – (DCP Gboko Cement Industry) at Dangote Group. Please ensure you read the job requirements before applying for this position.
Dangote Group is one of Nigeria's most diversified business conglomerates with a hard – earned reputation for excellent business practices and products' quality with its operational headquarters in the bustling metropolis of Lagos, Nigeria in West Africa.
We are recruiting to fill the position below:
Job Title: Financial Reporting Officer – (DCP Gboko Cement Industry)
Reference No: GbokoFinance005
Location: Gboko, Benue
Employment Type: Full Time
Job Description
Preparation of Management Performance Report on monthly basis and any other report that may be required by the management take important decisions.
Ensure financial transactions are allocated and posted into the correct general ledger heads and cost centers.
Review and reconciliation of general ledgers on a timely basis.
Develop account reconciliations, journal entries, data compilation and analyses ensuring accuracy and timely delivery.
Preparation of timely and accurate financial statements and annual reports.
Maintenance and documentation of accounting procedures & policies and the entire Financial Reporting system
Monitor/Support General Ledgers /month-end close.
Assist Financial Controller with reporting metrics/parameter definition in ERP
Support in preparation of schedules for the external audit exercise and others as may be assigned by the Financial Controller.
Research new accounting standards and regulations to ensure the posting of financial transactions comply with IFRS reporting requirements.
Requirements
Candidate must have B.Sc/HND (Finance/Accounts) + 3-6 years experience or ACA with 3-6 years experience in a FMCG
Proficiency in computer usage.
Knowledge of SAP is required.
In-depth knowledge of IFRS.
Proficiency in Power Point Excel fusion is a must and should be versatile in Advanced Excel, Financial Modelling & power point presentation.
Proven work experience as a Financial Reporting Officer/Accountant in a FMCG company
Ability to use micro soft Outlook.
Good communication and writing skills.
Excellent analytical and time management skills
Strong numeracy skills
Keen attention to detail
Benefits
Private Health Insurance
Paid Time Off
Training & Development
Application Closing Date
Not Specified.