ATTENTION!!! FOLLOWS US ON GOOGLE NEWS and be the first to know about high paying job vacancies so you can apply IMMEDIATELY. Click here to JOIN GOOGLE NEWS.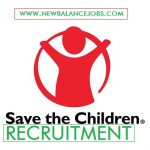 Save the Children Nigeria
Save the Children is the leading independent organization for children in need, with programs in over 120 countries. We save children's lives. We fight for their rights. We help them fulfil their potential. Save the Children is working in Nigeria because one in five children in Nigeria dies before their fifth birthday. About 40% of children miss out on school and have to work to survive while nearly 2 million children have lost one or both parents to an AIDS-related disease.
We are recruiting to fill the position below:
Job Title: Finance Coordinator
Job Identification 1530
Location: Damaturu, Yobe
Grade: 3
Post Type: State
Job Category Finance
Job Schedule Full time
Team: Nigeria Country Office
Child Safeguarding
Level 3- The responsibilities of the post may require the post holder to have regular contact with children or young people and, in the overseas context all posts are considered to be level 3 posts in view of potential situations which may allow staff unsupervised access to vulnerable children and young people.
Role Purpose
This position will be responsible for implementing and/or coordinating all financial support functions for the state office and specifically:
To provide sound financial management, manage the financial information function, train and manage financial relationships with partners and stakeholders.
In the event of a major humanitarian emergency, the role holder will be expected to work outside the normal role profile and be able to vary working hours accordingly.
Scope of Role
Reports to: Field Manager
Staff directly reporting to this post: Finance Officers, Assistants
Matrix Report – Humanitarian Finance Lead
Key Areas of Accountability
Key Accountabilities
Have essential knowledge of Finance and Accounting. Ensure that roles and responsibilities are clear and have strong understanding of all of Donor's and Save the Children's regulations and policies, especially the core policies such as; Finance policies and procedures, Child Safeguarding Policy, Code of Conduct, Fraud & dishonesty policies, Anti-bribery and corruption policy and whistle blowing policy.
Finance:
The Finance Coordinator is the finance lead in the field office and will be responsible for all finance related activities.
Payment Review:
Ensure all financial transactions in the state office are appropriately approve, authorise and administer, in line with SC & Donor policies.
Process all payments (cheque and/or cash) to vendors, service providers, and partners in line with SC policies & Donor requirements
Process all banking activities in the state office, ensuring that bank account records are accurately maintain, and that bank statements are obtained on a timely basis.
 Responsible for monthly recharges processing (Reversal and re-class) as well as daily matching of transaction on Aggresso
Financial Record:
Manage the electronic spreadsheet/format for receiving and disbursing funds; coordinate the preparation and timely submission of monthly financial reports and other reports to Abuja as required. Ensure accurate keeping of account books (electronic and paper) for the state office.
Ensure adequate safeguarding of all vouchers manually and electronically
Ensure adequate safeguarding of all financial instruments
Preparation and submission of monthly Balance Sheet Reconciliations to CO Abuja
Lead on PROSAVE invoicing and reconciling in the state and Pro-team meetings
Cash and Budget Management:
Coordinate with the Line manager to ensure timely and appropriate cash flows, matched with the operational needs of the state office and budget forecasts, and in line with SC policies and donor requirements.
Ensure that the Field Manager receives timely and accurate information to inform activity planning and forecasts.
In collaboration with the line manager support monthly budget phasing and annual pipeline analysis as well as BVA commentary for specific award.
Procurement:
Represent Finance at Procurement Committee meeting
Validate Purchase Vouchers within the Finance Coordinator's Limit
Follow up on all outstanding invoices, payments in the field offices
Statutory Regulations:
Make statutory payments to the relevant authorities such as PAYE, WHT, and PENSION deduction and ensure adequate documentation is kept in the office.
Monthly submission of EFCC report to the country Office
Partner Management:
Review partners/sub-awardee financial report and reconcile partners/Sub-awardee Account (52000)
Support the state teams to provide administrative and technical support to the partners to ensure that all financial documentation and reports are prepared and submitted on a timely basis in line with SC policies, project agreements.
Business Partnering:
Conduct state level finance induction for all new staff on finance policies, systems and procedure
In collaboration with the line manager support the training in financial management in accordance with SC's financial management policies.
Audit & Evaluation:
Assist with the Internal and External audit preparations including putting together relevant documentations for the Audit
Coordinate all SC awards audits and ensure complete implementation of recommendations and findings
Follow up on audit issues and provide appropriate response with support from Humanitarian Finance Lead
Any other tasks as assigned by supervisor
Requirements
Candidates should possess a B.Sc / HND or equivalent
Specified Study Area – Finance / Accounting
Knowledge and experience in working with INGO
Excellent verbal communication and listening skills.
Language Requirements: Spoken English-Excellent; Written English-Excellent
Level of IT Expertise: Excellent (Word, Excel, Powerpoint, etc.)
Professional certificate in accounting and finance
Desirable Criteria:
Good training and facilitation skills (for financial training/support to partners).
Ability to multi-task, engage in long-term planning, meet deadlines, and handle last-minute demands; exercise patience, and adapt to changing circumstances.
Ability to be creative and proactive health service improvement is essential.
Skills And Behaviours (our Values in Practice):
Accountability:
Accuracy and timeliness in all areas of responsibility
High level of accuracy in work, and ability to analyse complex sets of relationships and situations
Holds self and others accountable
Ambition:
Creating best-in-class EA function
future-orientated, thinks pro-actively
Collaboration:
Working effectively with stakeholders to achieve common goals
Excellent communication and interpersonal skills
Builds and maintains effective relationships, with their team, colleagues, members and external partners
Approachable, good listener, easy to talk to
Creativity:
Designing more effective admin systems
Willing to take disciplined risks
Integrity:
Honesty, encourages openness and transparency, demonstrates highest levels of integrity.
Application Closing Date
29th May, 2023, 10:59