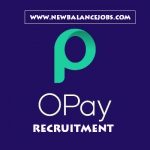 OPay Nigeria
Deputy Sector Manager Job at OPay Nigeria. Please make sure you read the job requirements before applying for this position.
OPay Nigeria – We are more than a payment company. We believe everyone should be able to enjoy financial and social inclusion, without regard for physical borders, boundaries, or even social status. OPay is a one-stop mobile-based platform for payment, transportation, food & grocery delivery, and other important services in your everyday life. Millions of users rely on OPay every day to send and receive money, pay bills, and order food and groceries.
Over 60% of people in Africa remain unbanked and can't access the most basic financial services to invest in their education and businesses, which limits their full potential. Nobody should be denied access to participate in the world economy because of their circumstances or background. With a passionate team, sophisticated mobile platform, and a fast-growing community of users, OPay is making financial services more efficient for millions of users and it starts with the ability to pay and have access to the right opportunities at the right time. When you combine human excellence, expertise and technology, this is what you get.
Job Description
Develop and adjust strategic plans towards onboarding merchants, super merchant, agents, and super-agent alike for the Sector Sales unit based on set objectives
Oversee the activities of the Sector Sales Managers while also managing key merchants in the identified sectors in their locality.
Work closely with their team in visiting, interacting focusing on client's needs, proffering solutions and where peculiar challenges are recorded, feedbacks are collected and properly reported to the Deputy Sector Manager in a timely manner.
Ensure Gross Transaction Volume of onboarded merchants and agents improve month by month
Prepare competitor's product comparative analysis, identifying areas for improvement of our company's product
Job Requirements
Bachelor's Degree, HND
3 – 5 years experience in Sales, Marketing or Relationship management from FMCGs, Betting, Markets, Chain Structured Businesses and Health & Pharmaceuticals industry.
Comprehensive understanding of POS business, great understanding of agency banking and merchant scenarios
Extremely flexible, result oriented, hardworking with a strong track record of success
Self-motivated and able to work independently to meet and exceed sales target
Able to analyze data and sales statistics and translate results into numbers and solutions.
Salary
N300,000 basic plus N300,000 performance bonus based on KPI.
Application Closing Date
31st December, 2021.
Method of Application
Interested and qualified candidates should send their CV to: [email protected] using the Job Title as the subject of the email.
To apply for this job please visit gmail.com .