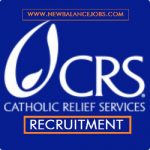 Catholic Relief Services
Catholic Relief Services is the official international humanitarian agency of the Catholic community in the United States. CRS works to save, protect, and transform lives in need in more than 100 countries, without regard to race, religion or nationality. CRS' relief and development work is accomplished through programs of emergency response, HIV, health, agriculture, education, microfinance and peacebuilding.
We are recruiting to fill the position below:
Job Title: Deputy Chief of Party II – (Nigerian Nationals Only)
Job Identification: 3000301
Location: Abuja (FCT)
Job Category: Chief of Party
Shift: Day
Context
CRS has a long and rich history of collaboration with the Global Fund to Fight AIDS, Tuberculosis and Malaria (Global Fund). In Nigeria, CRS has been a Co-Principal Recipient (PR) for the Global Fund Malaria grant since January 2017. As a Co-PR, CRS partnered with the National Malaria Elimination Program (NMEP), various state governments and malaria partners and stakeholders to coordinate and implement the 2017 long lasting insecticidal nets (LLIN) mass campaigns in 6 states.
For the 2018-2020 Global Fund Malaria grant, CRS remained a Co-PR with NMEP, strengthening the synergy and collaboration with NMEP to improve efficiency and impact. CRS worked closely with NMEP, Society for Family Health (SFH), Malaria Consortium, various state governments and other stakeholders to coordinate and implement the 2018-2020 long lasting insecticidal net (LLIN) mass campaigns in 13 states. CRS provided oversight and ICT4D leadership for the LLIN campaigns and implemented directly in some of the states.
In addition to SFH, CRS provided oversight to 2 other SRs (Management Sciences for Health and Malaria Consortium), in providing support to the 13 states supported by the Global Fund, for a range of malaria treatment and prevention services at the state level. These services included Seasonal Malaria Chemoprevention (SMC) implemented by Malaria Consortium with oversight from CRS.
For the 2021-2023 Global Fund Malaria grant, CRS remains a Co-PR with NMEP and works closely with NMEP, 3 SRs and other partners, to scale up the implementation of life saving interventions and improve access to quality malaria services in the 13 GF supported states. These critical interventions include malaria treatment and prevention services such as Seasonal Malaria Chemoprevention, LLIN campaigns, Social and Behaviour Change campaign, and testing and treatment interventions.
Job Summary
The position of Deputy Chief of Party – Senior Technical Coordinator (DCOP/STC) will oversee all programmatic aspects of grant, ensuring coordination across technical approaches and alignment with national objectives and strategies and the CRS Global Fund Malaria Program targets.
You will provide overall technical leadership for vector control and case management activities and provide cross-cutting technical support to the various thematic areas of the grant.
Your management and technical knowledge will ensure the delivery of high-quality programming and as a senior leader you will proactively manage security and mitigate security risks.
Roles and Key Responsibilities
Program Quality:
Ensure the Global Fund Malaria Program's strategic objectives for vector control, mass distributions, case management, prevention and ACSM are fully accomplished, in direct coordination with key stakeholders.
Ensure that plans for malaria program interventions adhere to and are in line with national objectives and strategies.
Working closely with the COP, oversee periodic programmatic and technical reviews and manage changes in program direction and focus.
Provide leadership for planning and coordination of mass distributions of long-lasting insecticidal nets (LLINs) in the GF supported states, ensuring distributions are implemented on schedule and meet relevant international and national guidelines.
In collaboration with program and SR staff, provide guidance and technical oversight to partners and other collaborating agencies to ensure that lessons of sound practice are documented and disseminated.
Provide vision and leadership in design of strategies to engage and support vulnerable populations (including pregnant women, children and migrant populations) in malaria program activities.
Support design and implementation of effective communication and mobilization strategies to increase uptake of malaria prevention measures and treatment services.
Ensure quality implementation of case management activities, including integrated community case management (iCCM) in Niger and Jigawa states and integration of Reproductive, Maternal and Child Health (RMNCH) in the GF malaria program in 13 GF supported states.
In collaboration with the Senior M&E Manager, track progress towards relevant performance indicators, analyzing reasons for shortfalls and adapting program strategies as needed.
Oversee the ICT4D team, in identifying and implementing technology solutions to improve program efficiencies and ensure that the Cash and Asset Transfer (CAT) Strategy is successfully implemented.
Management and Administration:
Support the various technical leads to manage program budgets for the mass distributions, malaria case management, vector control, prevention and ACSM activities, including tracking of financial and material resources.
Lead the reporting of Program Update/Disbursement Requests (PU/DR) in collaboration with other program staff.
Review SR reports, provide feedback on implementation progress and performance, identify solutions to address challenges and weaknesses.
Ensure staff compliance with all CRS and Global Fund administrative and operational procedures and policies, as well as applicable donor regulations.
Representation:
In collaboration with the COP, Country Representative and Deputy Country Representative, strengthen linkages with existing and potential partner agencies.
Liaise with technical counterparts in the Ministry of Health, other Principal Recipients, and other local and international stakeholders engaged in malaria activities in Nigeria.
Represent CRS at all relevant technical working groups, sectoral meetings and coordination fora.
Ensure the program's compliance with the Global Fund's branding and marketing requirements, as well as CRS' marketing and communication procedures.
Human Resource Management:
Lead, manage and supervise a team of CRS staff to meet program objectives.
Conduct periodic reviews of staff performance in keeping with CRS' performance management system and mentor staff to ensure high levels of motivation, commitment, capacity, and teamwork.
Basic Qualifications
At least ten (10) years of experience managing complex donor funded health program (Global Fund experience preferred, developing country setting preferred).
Minimum seven (7) years in a management position, supervising senior staff, in an international or multicultural environment.
Advanced Degree in Medicine and/or Master's Degree in Public Health preferred.
At least three (3) years of experience managing programs funded by USAID (or other US government), DFID, and/or the UN; contract experience a plus.
Experience managing a malaria case management and prevention program is a plus; as would experience including coordinating LLIN mass campaigns in Nigeria.
Experience in managing partners/ sub-recipients is desired.
Strong experience working with Government of Nigeria staff (at various levels – national, state and LGA) is required.
Strong experience with monitoring and evaluation and financial compliance.
Required Language(s):
Excellent English language oral and written communication skills.
Travel:
Willingness to travel up to 30% of the time.
Knowledge, Skills and Abilities:
Strong strategic, analytical, systems thinking, and problem-solving skills, with capacity to see the big picture and ability to make sound judgment and decisions.
Strong relations management abilities. Ability to relate to people at all levels internally and externally. Strategic in how you approach each relationship.
Demonstrates well-developed interpersonal skills, excellent communication skills, both verbal and written, as well as negotiation skills.
Team leadership abilities with diverse/multi-disciplinary teams. Coaching skills.
Proactive, resourceful, solutions-oriented and results-oriented.
Proven ability to function effectively as part of a multi-cultural team.
Excellent cross-cultural communication skills and proven diplomatic and negotiation skills.
Proven experience working with multi-sector teams and the ability to coordinate multiple staff with varying levels of responsibility.
Preferred Qualifications
Experience engaging partners and strengthening partnerships. Knowledge of CRS partnership strategy a plus.
Experience in MS Office package (Excel, Word, PowerPoint, Visio), Web Conferencing Applications, and information and budget management systems.
Key Working Relationships:
Internal:
Chief of Party, CRS Global Fund Malaria Program Team, Deputy Country Representatives, Country Representative, Head of Operations, Finance, Procurement and Administration Staff, Regional and Senior Technical Advisors, Deputy Regional Directors for PQ and MQ, GFSU.
External:
Global Fund's Fund Portfolio Manager and Nigeria Country Team, Sub Recipients, State Ministries of Health (SMOH), National Malaria Elimination Program (NMEP) within the Federal Ministry of Health (FMoH), Technical and Financial Partners, partner health facilities, Local Fund Agent (LFA), GSM, Auditors.
Agency-wide Competencies (for all CRS Staff):
These are rooted in the mission, values, and guiding principles of CRS and used by each staff member to fulfill his or her responsibilities and achieve the desired results.
Integrity
Continuous Improvement & Innovation
Builds Relationships
Develops Talent
Strategic Mindset
Accountability & Stewardship.
Application Closing Date
29th November, 2022 (3:39 PM).
Method of Application
Interested and qualified candidates should:
Click here to apply online
Note
Our Catholic identity is at the heart of our mission and operations. Catholic Relief Services carries out the commitment of the Bishops of the United States to assist the poor and vulnerable overseas. We welcome as a part of our staff people of all faiths and secular traditions who share our values and our commitment to serving those in need.
CRS processes and policies reflect our commitment to protecting children and vulnerable adults from abuse and exploitation.
Disclaimer: This job description is not an exhaustive list of the skill, effort, duties, and responsibilities associated with the position.
CRS' talent acquisition procedures reflect our commitment to protecting children and vulnerable adults from abuse and exploitation.
CRS is an Equal Opportunity Employer.