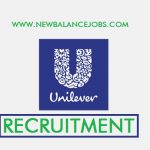 Unilever Nigeria Plc
Unilever Nigeria Plc Recruitment for Category Manager, Home Care. Please ensure you read the job requirements before applying for this position.
Unilever Nigeria Plc – Welcome to Unilever, a global multinational and fast-moving consumer goods (FMCG) company with products sold in over 190 countries and more than 2 billion consumers across the world who use our amazing products everyday!
We are recruiting to fill the position below:
Job Title: Category Manager, Home Care
Job ID: R-33862
Location: Lagos
Main Purpose
Mainly responsible for the deployment and execution of category marketing plans across multiple platforms.
Manage and grow Home Care category through category-driven activation, renovation of current core portfolio and brilliant implementation of NPD platforms
Achieve category share and profitable NPS/profit growth targets through translation of category & marketing plans into market-implementation and customer plans (with potential for tailor-made activities).
Champion the consumer needs and category passion within the overall business
Champion competitive behaviour and mindset throughout the business and translate it into targeted marketing activities to grow category share
Deliver market and customer-knowledge driven input into innovation platform projects and category planning to ensure requirements of brands will be met in the future.
Lead market implementation of those platforms and develop world-class activation mix.
Main Accountabilities
Development of a share-growth-oriented marketing & category plan that seizes opportunities in product renovation, pricing strategy, competitor activities, customer/channel (e.g. convenience format, discounter) specific needs
Represent product (insights), category strategy and product quality requirements on the cross-functional discounter team
Champion optimal launch of innovation platform
Work with communication team to ensure single minded communication message is created in line with the category building communication plan, consistent with category needs.
Monitor and review effectiveness of innovation and renovation programme to inform future plans. Ensure continued focus on and support of innovation platforms once launched.
Develop & lead implementation of activation platforms and ideas based on the category vision plan and work with agencies for RM, PR, BTL deliverables for the category.
Translate marketing & category plan into a business framework and optimise commercial opportunities (identify threats). Feed into monthly and annual planning processes.
Develop and implement 12-18 month portfolio roadmap including product range & quality, brand build, value delivery for consumers, pricing & affordability, range extension.
Pro-actively feed market, category and customer requirements into platform innovation projects
Critical success Factors for the Job
Relevant Experience (Essential):
Four (4) to (6) six years relevant experience in category management in a Fast-Moving-Consumer Goods (FMCG) environment.
Business Management and Category development experience will be an added advantage.
Good understanding of Business Financial with the view of growing profitable brands.
Key Competencies (SOL's):
Purpose & Service
Personal Mastery
Agility
Business Acumen
Talent Catalyst
Consumer Love
Passion for High Performance.
Functional Skills:
Show Empathy & Curiosity
Generate Powerful Insight
Design & Nurture Exceptional Product Experiences
Lead & Inspire Bold Creative Work
Create Agile Integrated Engagement Plans
Executive Flawlessly, Track & Optimize.
Transform Data Into Action
Craft and Champion Purposeful Brands
Create Focused Growth Strategies and Plan
Generate Breakthrough Ideas
Other Functional Skills:
Category Management
Information Management
Marketing.
General Skills:
Business strategy and formulation
Business Planning and implementation
Project Management
Change Management
Commercial Acumen.
Key Environment
Internal Stakeholders the role interface with:
Category Leads
CD Director
CCBTs
Supply Chain
MIS Manager
R & D
Regulatory Affairs
Finance
Quality.
Brand Managers and Assistants
Key Account Managers
Channel & Category Development Managers
CCM & CMI
External Stakeholders the role interface with:
Brand Agencies
Media Agencies
Pack Design
Marketing Research Agencies
Public Relation Consultancy as required.
Method of Application
Interested and qualified candidates should:
Click here to apply