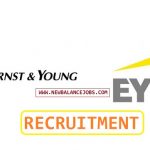 Ernst & Young (EY)
Business Transformation Senior at Ernst & Young (EY). Please ensure you read the job requirements before applying for this position.
Ernst & Young (EY) is a global leader in assurance, tax, transaction and advisory services. The insights and quality services we deliver help build trust and confidence in the capital markets and in economies the world over. We develop outstanding leaders who team to deliver on our promises to all of our stakeholders. In so doing, we play a critical role in building a better working world for our people, for our clients and for our communities.
We are recruiting to fill the position of:
Job Title: Business Transformation Senior
Location: Lagos
The Opportunity
Within our Business Transformation competence, the team focusses on the following areas:
Strategic Transformation – Execute strategic transformations that meet desired goals and align with people, processes, technology and innovation
Purpose-led Transformation: Helping organizations maximize their benefits and minimize their risks of sustainable change, focused on people values and outcome (behavioral change, culture, …).
Employee experience: Focusing on customizing the experience of people throughout transformations.
Analytics based: Working with change analytics methodologies and tools for change that actually work and are sustainable
Industry & Market Strategy: Rethink business strategy and operating models
Our Consulting Practice works as one single team to find the best solutions for our clients and can be summed up in different competencies. Given our growth and ambitions in the Business Transformation competence we are currently looking for highly motivated Senior Change Consultant to join our client engagement teams.
Your Key Responsibilities
As a Change Consultant you will help guiding organisations through their transformation journeys by engaging the business, making sure they are ready for the change and assuring the change sticks.
Helping organizations maximize their benefits and minimize their risks of sustainable change by:

Collaborating on strategic and transformation projects in areas such as IT transformation (e.g. ERP implementation), agile transformations, cultural changes, innovation and digitization, organizational (re)design, etc.
Designing and implementing future operating model in the necessary processes, policies and tools to support the desired business outcomes
Ensuring the necessary culture and behavioral change and embedding change across the organization to ensure benefits are maintained, focusing on change management, talent management and people analytics.
Managing stakeholders, ensuring timely and qualitative communication, facilitating workshops and client sessions and ensuring coaching and training
Participating in identifying client issues and proposing the most appropriate strategy and approach.
To Qualify for the Role, You Must Have
An MBA or Business Inclined Master's Degree.
Minimum 3 years of relevant experience in consultancy or project work within a large (international) company
Fluent in Dutch and English, well-versed in French
Analytical and conceptual thinker with innovative reflexes
Empathic with a strong interested in the human side of transformations
Good communication skills; active listening skills, good (inter)personal communication skills and public speaking skills
Competent in Core Consulting Capabilities professional, quickly establishes personal credibility and demonstrates expertise.
Strong focus and drive to achieve project / program goals and objectives, with a first time right mentality
Within client assignments, analyses complex problems and is able to deliver insightful and practical solutions. Is able to think in a structured manner and can communicate concisely to clients
Willingness and ability to travel internationally if required
Agile experience is a plus
Able to work both independent and in teams.
What Working at EY Offers
You join a dynamic, young team, exclusively focused on innovation, new products & services, and customer experience;
We offer you an attractive remuneration package (competitive salary, net allowances and extensive fringe benefits: company car with fuel card, smart phone, health insurance, pension plan, etc).;
We offer extensive trainings, both on technical matters, as well on soft skills and project management;
We are proud of our flexible working arrangements, and we will support you to build a successful career and deliver excellent client service without sacrificing your personal priorities. While our client-facing profession might require regular travel, and at times working at client sites, we are committed to help you achieve a work-life balance;
At EY we are passionate about the inclusion and support of individuals of all groups; we do not discriminate on the basis of race, religion, gender, sexual orientation, or disability status.
Application Closing Date
Not Specified.
Method of Application
Interested and qualified candidates should:
Click here to apply online
Note: If you can confidently demonstrate that you meet the criteria above, please contact us as soon as possible.