ATTENTION!!! FOLLOWS US ON GOOGLE NEWS and be the first to know about high paying job vacancies so you can apply IMMEDIATELY. Click here to JOIN GOOGLE NEWS.
Access Bank is recruiting for Admin Expert.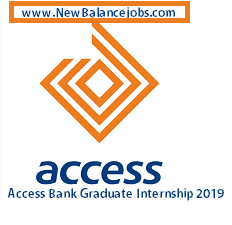 About the Company
Access Bank Liberia – ABL is a part of a growing chain of international banks. Its shareholders are multinational entities including AccessHolding AG of Germany- a joint stock holding company, International Finance Corporation (IFC) – the private sector arm of the World Bank Group; African Development Bank- a development bank which aims at promoting economic and social development in Africa; and European Investment Bank – the long-term lending bank of the European Union.
The Bank is a full-fledged commercial bank, offering in a transparent, professional and sustainable way appropriate financial services to the Liberian population.
Job Title: Admin Expert
Company:  Access Bank 
Location: Liberia, Monrovia
Job Description
Access Bank Liberia Limited is seeking to recruit a qualified individual as Application Admin Expert.
The Application Admin Expert shall work as a strategic support staff to the IT Department and be responsible to aid the CIO in ensuring that application systems are maintained, available, secured, and deployed in line with the Bank standards.
Main Tasks and Responsibilities
Planning, deploying, configuring and maintaining ABL applications and electronic channels
Install, manage and administer database servers such as MSSQL, MySQL and others
Manages and support the Core Banking Application (myMBS)
Ensure regular database backup, storage, and recovery at all times.
Ensure database design, installation requirements and deployment.
Assist in conduction training for end user on the use of core banking application (myMBS) and other applications and provide information on resolving problems.
Implementing new releases and patch updated of Bank Applications;
Installs new banking software modules, updates or fixes (planning, local testing and in case of new functionalities, train the trainer)
Develop customized reports.
Function as second level support for questions related to the business functionality of the banking system
Supervise applications projects in connection with Banking Application
Maintain and update documentation of systems and applications
Understanding of API – working and connecting with API of other vendors
Capable of API delivery end to end which includes Planning, Design,
Development, Testing, and Delivery of API(s).
Transfer knowledge to other IT Colleagues
Requirements
Ability to implement and troubleshoot applications problems
Experience of Web applications deployment (Web Application Proxy, Reverse proxy, Load-balancing)
Strong experience of MS SQL setup, configuration, administration, monitoring, performance optimization and backup
Knowledge on current mobile technologies
Abreast with current technologies in application development
Familiarity with various programming languages and technologies (e.g. C/C++, JAVA, Python, RUBY, SQL, CURL,Nodejs RESTful APIs, etc.)
Sound experience in software deployment project coordination
High level understanding of Server technologies would be beneficial
Knowledge of computer network, hardware and software.
Knowledge of network security methods and techniques
Ability to operate on a scheduled 24-hour on-call basis
Strong inter-personal, writing and communication skills
Output-oriented work habits
At least 2 years' experience in similar position
Other Benefits
Health Insurance
Free Accommodation will be provided in the company's apartment
Bonus Based on satisfactory completed project at the discretion of Management
20 days Annual Leave with 1 return flight paid by the company.
Method of Application
Interested and qualified candidates should please send their Cover Letters and CV including testimony of all relevant documents to the Human Resources Department, email at: hr@accessbank.com.lr using the "Job Title" as the subject of the email.
Note: Please note that only short-listed candidates will be contacted.