Organised by the European Commission, the European Development Days (EDD) bring the development community together each year to share ideas and experiences in ways that inspire new partnerships and innovative solutions to the world's most pressing challenges. The EDD is a participatory programme.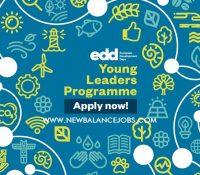 The European Commission is inviting young people from around the world to play an active role in this year's EDD.
We are looking for 17 extraordinary young people aged 21-26 who can represent the powerful impact that youth are having in the sustainable development field. The Young Leaders Programme will consist of a 10-day visit to Brussels, where Young Leaders will meet EU experts, stakeholders and play a leading role in the EDD Programme, which will include speaking in various session alongside global leaders.
Are you playing an active role promoting environmental issues and biodiversity preservation and fighting against climate change?
Are you leading your generation at the local, regional or national level? Do you want to share your vision of the future with other influential sustainable development actors? The time has come to make your voice heard: Apply for the Young Leaders Programme and grab the chance to be invited to Brussels to share your ideas!
Method of Application

All Interested & qualified candidates should Click Here to Apply
Applications will close on Friday 21st February (1:00 PM CET)